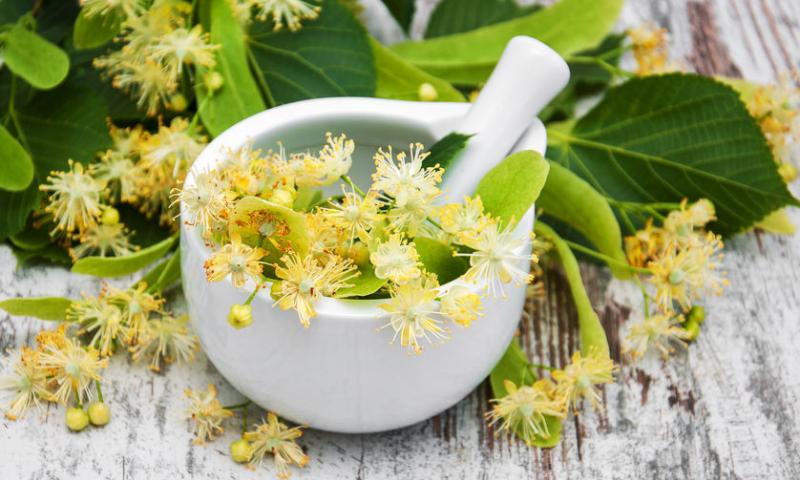 />
LATIN NAME: Tilia × europaea
FAMILY: Malvaceae
GENUS: Tilia
COMMON NAMES: the common lime (British Isles) or common linden (North America)
DISTRIBUTION AREA: In its natural form is found in Europe: Sweden, Austria, Germany, Poland, Switzerland, Ukraine, Greece, Italy, including Sicily, Romania, France, and Spain. The most famous street in Berlin is called Unter den Linden (under the lindens).
HABITAT: It grows in mixed and broad-leaved forests and is cultivated everywhere.
BOTANICAL INFORMATION: It is a naturally occurring hybrid between Tilia cordata (small-leaved lime) and Tilia platyphyllos (large-leaved lime). However it is not closely related to the lime fruit tree. It is a deciduous tree up to 15–50 m of height. The leaves are intermediate of 6-15 cm long. The flowers are produced in clusters. The fruit is a dry nut-like drupe with diameter of 8 mm.
CHEMICAL COMPOSITION
The therapeutic effect and extremely useful properties of linden are in its rich composition. Kidneys, bark, and inflorescences of linden contain
vitamin C

glucose

carotene

protein

tannin

micro- and macroelements

essential oils

sugar

tannins

antioxidants

amino acids

bioflavonoids

phytoncides
Tiliacin provides the antibacterial properties of linden; quercetin and kaempferol - wound healing and antipyretic.
HEALTH BENEFITS
Pharmacological actions:
emollient

anesthetic

anticonvulsant

tonic

stimulating

anti-inflammatory

diaphoretic

expectorant

rejuvenating

diuretic

analgesic

sedative

antimicrobial

antipyretic

choleretic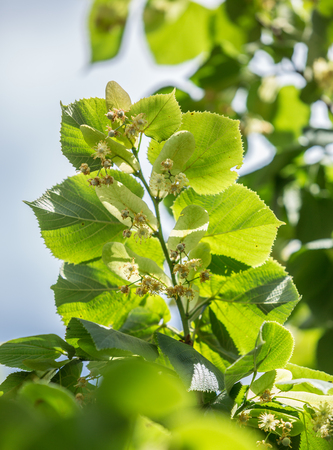 Health properties of Linden:
soothes the CNS

stimulates the work of the heart and circulatory system

reduces the viscosity of blood

removes toxins from the liver

activates the work of the gallbladder, stomach, bladder, kidneys and intestine

treats skin ulcers, burns, hemorrhoids

relieves joint pain

is a good remedy for insomnia, rheumatism, stomach cramps and intestinal spasms

is used for prolonged bronchitis, angina, chronic cough

normalizes the menstrual cycle

copes with the common cold

makes the skin velvety and supple

is recommended for colds, headache, fainting, for gargling with tonsillitis and when having inflammatory processes of the mouth cavity

increases the secretion of gastric juice

increases bile formation and facilitates the entry of bile into the duodenum

is used for minor digestive and metabolic disorders
LINDEN HEALTH RECIPES
Linden infusion: Add 1 tablespoon of linden flowers to 200 ml of boiling water. Infuse for 40 minutes. Then strain. Take 1 glass 3-4 times a day in a hot form for colds, bronchitis, pulmonary tuberculosis, headache, cough, bronchial catarrh. You can as well use it while gargling when having angina and diseases of the mouth cavity.
Linden decoction:
Add 2 tablespoons of linden flowers to 200 ml of boiling water, warm up on a low heat for 15 minutes, then infuse for 45 minutes and strain. Let it cool to room temperature. Take 1-2 hot glasses 2-3 times a day after meals. Use this decoction as a cholagogue.
Add 2 tablespoons of crushed linden flowers to 400 ml of boiling water, infuse for 10 minutes, then strain. Take during the day when having chronic cough.
Linden tincture: Mix 1 teaspoonful of linden flowers with 500 ml of vodka. Infuse for 7 days in a dark place with room temperature, shaking once a day. Warm up honey and water on a low heat, stirring from time to time. When the honey is completely dissolved, remove it from heat, and cool the mixture to room temperature. Mix cool honey syrup with linden tincture and infuse another 3-4 days. This tincture is a good remedy for a common cold.
Linden tincture relieves anxiety, prevents chronic diseases, detoxifies the body, reduces cold and flu, removes inflammation, prevents cancer, and improves digestion.
WARNINGS AND SPECIAL PRECAUTIONS
Linden decoctions and infusions are perfectly ingested by the majority of people. In fact, the only contraindication is individual increased sensitivity (hypersensitivity).
However it must be taken into account that linden has sweating properties, therefore it has a great impact on the heart, increasing its work. It is not recommended to consume linden preparations instead of tea daily for prolonged period. If you have heart disease, do not use linden without medical supervision.
There is not enough information known about linden consumption during pregnancy and breast-feeding. Thereby don't risk taking linden during these periods. Stay on the safe side.
DRUG INTERACTIONS
Moderate Interaction with Lithium:
Linden has a diuretic effect. Its consumption has an impact on the process of getting rid of the lithium from the body. The lithium quantity can become greater and leads to high-priority side effects. Consult a doctor, perhaps you will need to change a dosage of lithium.
"Trees are poems that Earth writes upon the sky"
Kahlil Gibran
*This article is for informational purposes only. We suggest consulting with a physician before using these or any other herbal supplements.