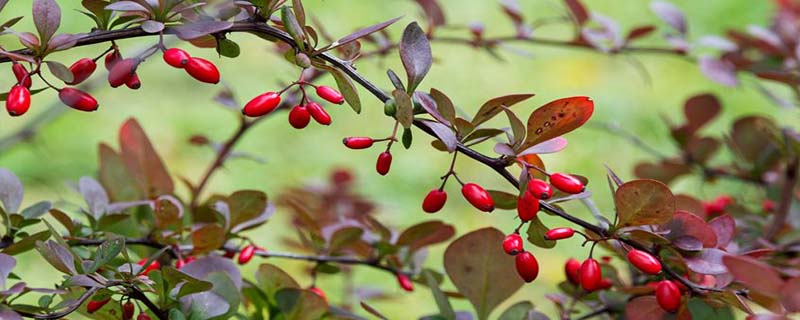 />
Barberry, also known as berberis, is a large genus of the evergreen and deciduous shrubs which are 1 to 5 m tall. These are found throughout the subtropical and temperate regions of the world except Australia. Diversity of the species is the greatest in Africa, Asia, South America, North America and Europe.
It is a tall shrub with thorny, gray branches. The ripe barberries are puckery but less sour than the cranberries which can be used in the preparation of jams. Both the bark and the berries are utilized in healing. The dried fruit is used in herbal medicines for which the bark, root and berries are used. Chemical constituents of barberry include isoquinolone alkaloids which help in the treatment of polycystic ovary syndrome.
Barberry is long known as a herb that boosts the heart health, cleanses liver and gut and even prevents diabetes. It is a good source of vitamin C and is edible but has quite a sharp taste. The plant has been used for more than 2500 years for its medical properties. It contains berberine content which is known the help the immunity system in better functioning and inhibiting bacteria growth in the test tubes.
The liquid extract of barberry has beneficiary effects on neural as well as the cardiovascular systems and it helps in the treatment of abnormal heartbeat, hypertension, neural disorders like convulsions and epilepsy.
Benefits of the Barberry Liquid Extract
Barberry has medicinal properties that improve the heart health which helps in treating hypertension, cardiac arrhythmias, ischemic heart disease, atrial fibrillation and cardiomyopathy.
It reduces the density of triglycerides and serum cholesterol which are good for a healthy heart and body.
It has antifungal, antiprotozoal and antibacterial abilities which help in providing protection against several infections including that of gastrointestinal, bladder and urinary tract.
Barberry helps relieve general respiratory tract ailments like nasal congestion, sore throat, bronchitis and sinusitis.
Barberry extract is also useful in preventing and improving diabetes. It also improves lipid metabolism and glucose disorders.
Barberry reduces gastrointestinal pain and improves digestion. It is a very good treatment for diarrhea which includes both diarrhea due to food poisoning and traveler's diarrhea.
Barberry acts an effective gallbladder flush and liver cleanse agent. It also aids in the bile secretion, helps in regulating the digestive process and act as a mild laxative.
The extract from barberry reduces oxidative burden which in turn helps in fighting the metabolic syndrome and its possible complications.
The extract is also very beneficial for gallbladder problems and kidney stones.