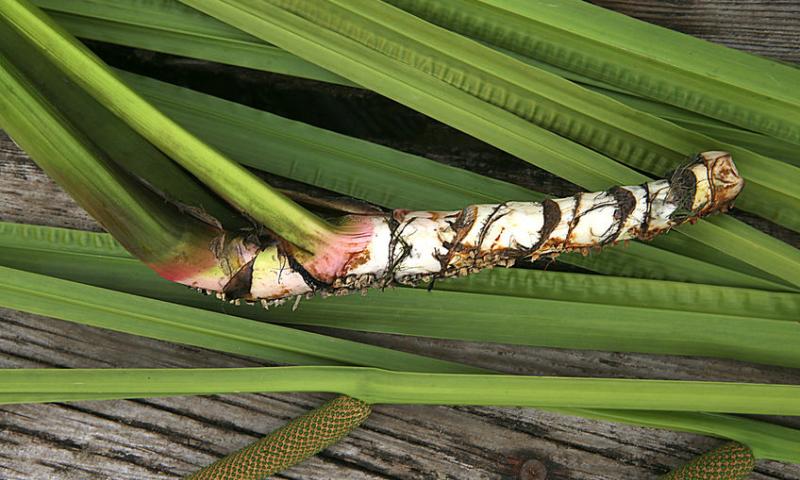 />
Acorus Calamus, commonly known as sweet flag or calamus grows in Southeast Asia, Europe, North America. It grows along the banks of rivers and reservoirs, in swamps and marshy meadows. It is used as a spicy substitute for bay leaves, cinnamon and ginger, in medicine, food industry. Calamus is a perennial herb, 60-100 cm high.The rhizome is thick, cylindrical, horizontal, covered with thin fibrous roots. It reaches a length of up to 1.5 m. The rhizome and other parts of the plant have a characteristic strong odor. The stem is erect, unbranched, flattened, grooved on one side, and sharply ribbed on the other. The leaves are xiphoid. The flowers are small, green-yellow, collected in a cob 4–12 cm long. Calamus blooms in May and July. The fruit is a leathery red berry.
CHEMICAL COMPOSITION
Calamus rhizomes contain up to 3% essential oil, which contains monoterpenes (camphene, camphor, borneol) and sesquiterpenes (acoron, isoacoron, acoroxide, etc.), aromatic compounds (asarone, eugenol), etc.
glycoside acorin,
acoretin,
tannins,
ascorbic and palmitic acids,
starch,
choline,
vitamins,
iodine,
azarylaldehyde, which gives the rhizomes their specific odor.
Calamus herb is rich in starch, contains choline, resin, luceninone glycoside.
Calamus rhizome is used as a flavoring agent and bitterness to activate the secretory and motor function of the gastrointestinal tract in the form of decoctions, mixtures, powders, and cereals. Calamus increases appetite, improves digestion, increases the secretion of gastric juice. Calamus rhizomes also have anti-inflammatory, wound healing, analgesic, sedative effects. Calamus tones the heart, strengthens the blood vessels of the brain and thereby improves memory, enhances vision.
Calamus is used in cosmetology due to its antiseptic, antibacterial properties. It effectively treats many skin diseases, rashes, itching, scabies, acne, and kills bacteria and germs. Calamus also possesses astringent properties. It heals ulcers, wounds and cuts. It improves blood circulation, stimulates skin nourishment, gives the skin elasticity and freshness. Since ancient times, calamus has been famous as an effective remedy for hair loss. It is suitable for any hair. Calamus essential oil is easily and firmly absorbed into the skin, strengthening the hair roots. It gives hair shine, silkiness and pleasant aroma. Calamus disinfects hair skin, improves blood circulation, reduces hair loss and stimulates hair growth. It also has an excellent effect in combination with burdock oil.