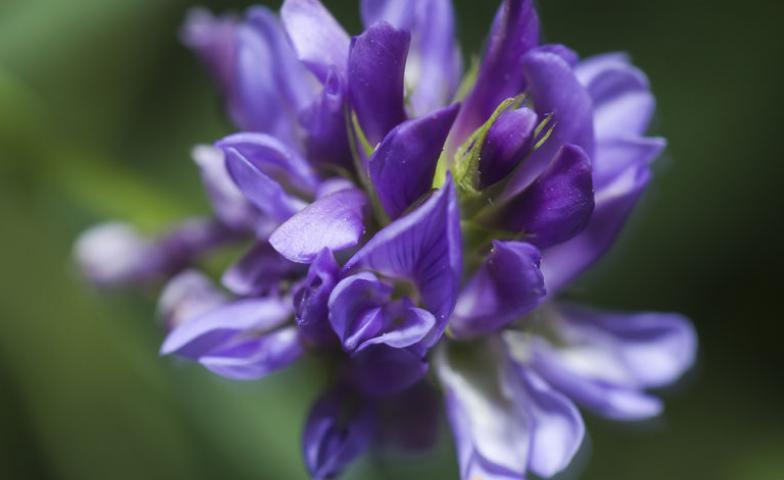 />
LATIN NAME: Medicago sativa
FAMILY: Fabaceae
GENUS: Medicago
COMMON NAMES: Lucerne
ORIGIN: is native to south-central Asia, and was first cultivated in ancient Iran
DISTRIBUTION AREA: In the wild nature grows in Asia Minor and the Balkans; is cultivated all over the world
BOTANICAL INFORMATION: Stems are tetrahedral, bare or floccose, the upper part is strongly branched, up to 80 cm height, can be straight, wide bushy or lying. Rhizome is powerful, thick, and deep-seated. Leaves are petiolate. Leaflets are 1-2 cm long and 0.3-1 cm width, oblong-obovate, and whole. Flowers are blue-violet. The fruit is a bean, about 0.6 cm in diameter.
CHEMICAL COMPOSITION
Alfalfa is rich in active substances: iron, phosphorus and calcium. The plant also contains vitamins A and C, unsaturated fatty acids, tannins, amino acids, phytoestrogens (couestrol and genistein), cyclic compounds and saponosides.
Seeds of alfalfa contain vitamins B1, B2, B12, C, D, E, K, chlorophyll and amino acids. The concentration of vitamins and accumulation of nutrients in seeds increases during the ripening period of the pod.
The leaves of alfalfa also contain niacin, biotin, folic and pantothenic acids.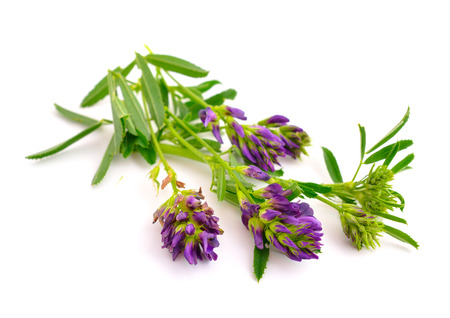 RECIPES WITH ALFALFA
Decoction: Add 15 gr of dried alfalfa to 300 ml of water, bring to a boil, simmer for ten minutes, infuse for 3 hours in a thermos bottle, and then strain. Take 100 ml 3 times a day before meals.
Infusion: Add 6 tablespoons of dried alfalfa to 500 ml of boiling water, infuse for 5 hours, then strain. Take 100 ml 3 times a day before meals for 4 weeks.
Tincture: Pour 500 ml of vodka over 25 gr of alfalfa, leave to infuse for 14 days, when ready strain. It is recommended to take 10 drops of tincture with 50 ml of water 30 minutes before meals 3 times a day.
"Minds are like flowers, the only open when the time is right"
*This article is for informational purposes only. We suggest consulting with a physician before using these or any other herbal supplements.