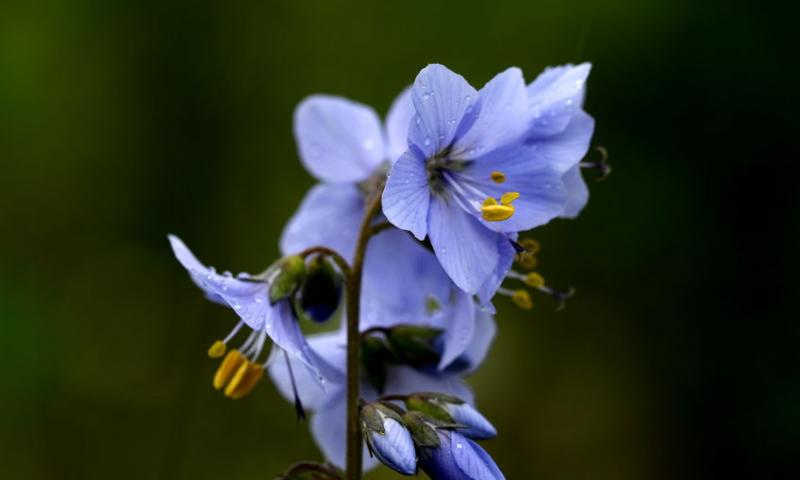 />
COMMON NAME: Speedwell
LATIN NAME: Veronica Officinalis
ORIGIN: Poland
HABITAT: Veronica Officinalis grows in Iran, Turkey, Transcaucasia, the Azores and the island of Madeira. It is also popular in Europe.
BOTANICAL INFORMATION: The plant belongs to the genus Veronica, originally considered a member of the vast Scrophulariaceae family, but later numbered by botanists in the Plantaginaceae family. The genus of Veronica has from 300 to 500 species.
Veronica Officinalis is a perennial herb that has a creeping at the bottom, and then a rising, pubescent stem. It can reach a height up to 30 centimeters. The leaves of the plant have obovate or oblong form, they are opposite, and short-pointed on the tops. The flowers of Speedwell are purple, bluish or soft pink and white. They sit on the pedicels in the bosoms of the bracts, one at a time. They are collected in multi-flowered brushes located at the top of the stems. The fruit of the plant is a two-celled multi-seed box. Seeds are tiny and flat-convex in shape. Speedwell begins blooming in June and continues to the very end of the season.
CHEMICAL COMPOSITION:
The chemical composition of the plant is not completely studied. However, scientists have found that Veronica Officinalis contains glycosides (veronitsin and aucubin), organic acids, including citric, acetic, malic, tartaric and lactic. Speedwell also has vitamins A and C, carbohydrates, fatty and essential oils, choline, iridoids, saponins, sterols, coumarins, alkaloids, tannins, bioflavonoids, and phenolcarboxylic.
ACTIONS: Veronica Officinalis is able to provide reparative, anti-allergenic, hemostatic, diaphoretic, antimicrobial, anti-inflammatory, antispasmodic, fungicidal, expectorant, wound healing and antitoxic effects.
HEALTH BENEFITS:
This herb perfectly regulates carbohydrate metabolism, so it effectively improves appetite and increases the production of gastric juice. Moreover, the plant is useful for low acidity gastritis.

Externally, this beautiful plant is able to stop blood, relieve inflammation, heal wounds, and fight fungal diseases.

In folk medicine, Veronica Officinalis is commonly used to treat stomach ulcers, colitis, and diarrhea.

The plant is effective in case of pritraheitis, dry cough, bronchitis, asthma, and colds. People also use this plant to remove mucus from the respiratory tract.

Speedwell is also used as a painkiller, which also treats insomnia, nervous exhaustion, and decline in mental and physical strength, and is useful for anxiety and hallucinations.

Veronica Officinalis is described as a women herb, so it is a good remedy for a number of gynecological diseases. It is recommended to be used in various inflammatory cases, as well as to relieve menopause symptoms.

Speedwell also cures rheumatism, arthrosis, gout, and resorption of hematomas.

Experienced herbalists include it for the treatment of urolithiasis, tuberculosis and even some types of cancer.
CONTRAINDICATIONS:
In different sources, different contraindications are mentioned. Some experts believe that Veronica Officinalis generally has no contraindications. However, to protect yourself from potential risks do not use it in case of the following conditions:
individual intolerance, allergic reactions;

heart diseases;

pregnancy and breast-feeding period;

high blood pressure;

diabetes;

renal failure.
INTERESTING FACTS:
The name of the plant comes from the Greek name Ferenik or Berenik, meaning "bringing victory." It is believed that the genus Veronica is named after the saint of the same name. According to the legend, on her scarf, with which she wiped the bloody wounds on the face of Christ on the way to Calvary, the image of Jesus remained framed by small purple flowers.
Great power was attributed to this plant in the Middle Ages. Veronica Officinalis was used for dizziness, memory loss, diseases of the stomach, liver, spleen, kidneys, bladder, gynecological diseases, and as a diaphoretic remedy.
Speedwell can be used in cooking. It gives a peculiar and pleasant aroma to meat and fish dishes.
Congnacs and liquors are flavored with Speedwell.
Veronica Officinalis is also popular in veterinary medicine. This plant is used for diarrhea, wounds on the skin of cattle.
A small, pretty plant that is often mistakenly called "forget-me-not." However, unlike forget-me-nots, the long creeping stems of Veronica near the ground intertwine, forming some kind of "rug".
Veronica's blue or lilac color is actively used in landscape design.
Not to mention that this plant is a wonderful honey plant with high honey productivity.
*This article is for informational purposes only. We suggest consulting a physician before using these or any other herbal supplements.