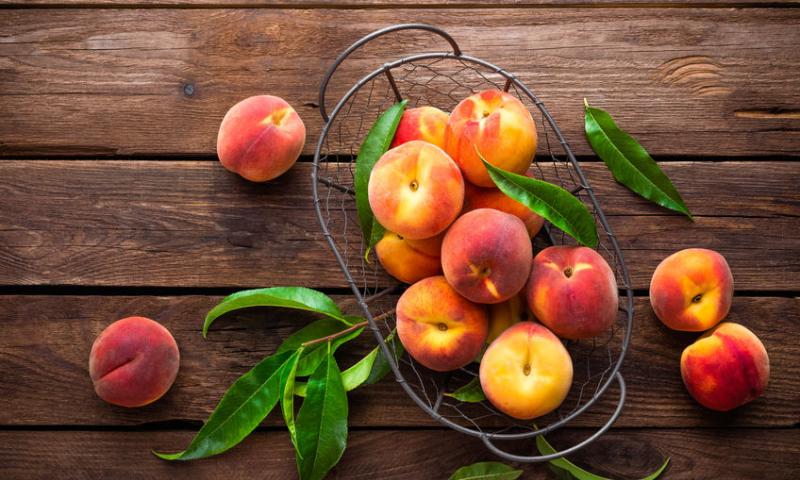 />
AN APPLE IS AN EXCELLENT THING UNTIL YOU HAVE TRIED A PEACH
LATIN NAME: Prunus persica
FAMILY: Rosaceae (Rose Family)
GENUS: Prunus
COMMON NAMES: peach or nectarine
ORIGIN: probably China
DISTRIBUTION AREA: was spread westward through Asia to the Mediterranean countries and later to other parts of Europe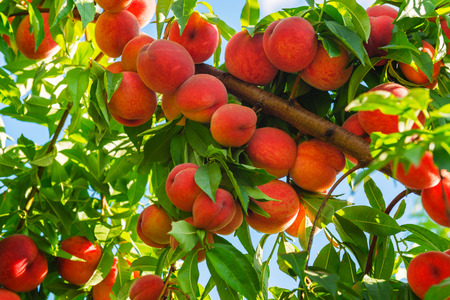 BOTANICAL INFORMATION: The peach tree grows up to 10 m high. The leaves are lanceolate with a serrated edge. The flowers are almost sessile, pink and red, appear before the development of the leaves. The fruit is from flat to elongate-elliptical, with a groove on one side, usually velvety. Stone is wrinkled-grooved with dotted dimples and an acuminate tip.
CHEMICAL COMPOSITION AND USEFUL PROPERTIES OF PEACH: Peach contains dietary fiber, which has a soft, laxative effect when having chronic constipation. Vitamin-mineral complex of peach is rich and diverse, the fruit contains: beta-carotene, vitamins of group B, C, E, K, H and PP, as well as potassium, magnesium, zinc, selenium, copper and manganese, iron, phosphorus and sodium, pectin. There are also organic acids: wine, apple, lemon. Usually bitter-tasting kernels of bones (resembling almonds) are very useful, they are sources of almond oil and vitamin B17.
Peach is useful for violations of heart rhythm and hypertension; it reduces blood cholesterol, increases the body's defenses. Thanks to the availability of vitamins, peaches serve as a good preventative remedy against infectious and colds.
People who eat them do not suffer from cardiovascular diseases, dementia, forgetfulness, because the fruit contain a lot of potassium and phosphorus. Elements improve the work of the brain and strengthen the walls of blood vessels. If you have a disturbed metabolism or anemia, peaches should be present in the diet. They have a lot of iron, which is the main element of blood. Daily use of peaches helps to relieve tension. Peaches are beneficial for pregnant women, children and adolescents, as well as for people with low acidity in the stomach.
Facemasks are made from the peach pulp. The skin is restored and becomes supple and tender, because of the large content of useful microelements. Fruits have a laxative effect when eating them in large quantities. That is why you need to eat them moderately, no more than 5-8 pieces per day.
If you often suffer from beriberi, eat more peaches. Try eating at least 1-3 peaches a day, and you will become less tired, life will be full of bright colors. The effect can be achieved by eating fruit on a daily basis. The use of delicious fruit is necessary when having the first stage of liver cirrhosis.
POSSIBLE HARM AND CONTRAINDICATIONS: Fruits may not always be useful. For example, they are harmful to diabetics and people with an easy excitable mentality. There is a lot of sugar in fruits and they act as a tonic. It may seem that peaches will not work for people who keep to a diet, but it is not true. They have not only sugar, but also fiber, which complements the diet of a slimming person.
Limit the use of peaches in order not to disturb the digestive and the vascular system. Eat fruit in the morning and then the digestive system will not be loaded.
Peaches should be excluded from the diet of allergies. Fruits can be harmful because of carbohydrates in the composition and the possibility of allergic reactions to the peel.
Contraindications for other groups of people have not been identified. The damage of peaches during pregnancy is not noted, especially if the future mother is healthy and does not possess allergy.
"You can be the ripest, juiciest peach in the world, and there's still going to be somebody who hates peaches"
Dita Von Teese
*This article is for informational purposes only. We suggest consulting with a physician before using these or any other herbal supplements.