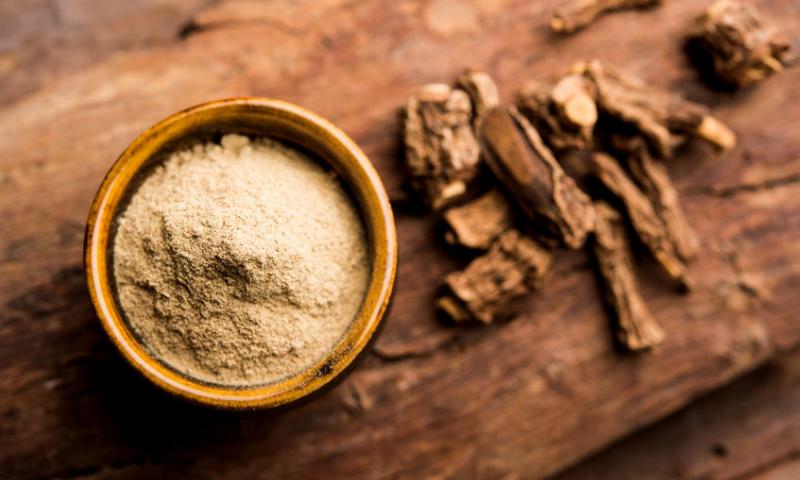 />
COMMON NAME: Arjuna
LATIN NAME: Terminalia Arjuna
HINDI: Arjun, Kooha
ORIGIN: India
HABITAT: Terminalia Arjuna grows on the Indian subcontinent. Usually, it is found on the banks of deep rivers in the states of Bangladesh, Uttar Pradesh, Madhya Pradesh and in West Bengal or in their dry channels.
BOTANICAL INFORMATION:
Terminalia Arjuna is a species of evergreen deciduous trees from the genus of large flowering trees Terminalia. The genus includes about 100 different species. The genus Terminalia is a member of the Combretaceae family.
Terminalia Arjuna is an evergreen deciduous tree, which, in addition to the main roots, has lateral - plank-shaped. The tree reaches a height of 20-25 meters. It has a tent-like crown. The leaves are green, oblong, shining on top and brown below. The plant also has remarkable bark - thick, white-pink-gray, secreting milky juice when notched. The flowers of Arjuna are tiny, pale yellow, gathered in panicled inflorescences. The fruits of the tree are fibrous, bare, divided into five wings. The blooming begins in August-September and fruit ripening is in November-December.
CHEMICAL COMPOSITION: The plant has quite a diverse chemical composition. It is rich in triterpene saponins, flavonoids, phytosterols, tannins, gallic and ellagic acids, as well as in coenzyme ubiquinone, vitamins C and E, zinc, magnesium, copper and calcium. Among the triterpene saponins contained in Arjuna there are arjungenin and arjunglycoside, flavonoids are represented by arjunon, arjunolone, luteolin, quercetin and keppferol.
ACTIONS:
This Indian plant is one of the main components of Ayurveda and therefore has a numerous benefits on human's health, including cardio tonic, alterative, analgesic, antibacterial, anticoagulant, antidysenteric, antihypertensive, anti-inflammatory, antimutagenic, antioxidant, antiulcer, antiviral, aphrodisiac, astringent, blood thinner, circulatory, demulcent, detoxicant, digestive, diuretic, expectorant, febrifuge, haemostatic, hypotensive, and sedative.
HEALTH BENEFITS:
Terminalia Arjuna is highly used as cardiotonic. The bark has an anti-ischemic and cardioprotective effect and is used in the treatment of coronary heart disease, heart failure, heart valve anomalies, normalizes heart rate and strengthens the heart muscle;

The plant possesses great antibacterial properties. It effectevly destroys Staphylococcus aureus, Anaerobic bacteria, Proteus mirabilis, diploid yeast thrush, Escherichia coli and Acetaminobacteria;

A number of modern studies suggest that Arjuna Terminalia may become in the fight against cancerous tumors;

Arjuna has astringent properties, so it can be used for digestive problems, especially diarrhea. This plant regulates intestinal motility, and prevents dehydration;

Terminalia Arjuna produces a beneficial effect on the respiratory system. It removes the secret that accumulates in the airways, preventing lung infections;

This plant is also used externally for skin problems, including eczema, itching and rash, and even psoriasis;

Arjuna successfully lowers the level of bad cholesterol;

In addition, this plant may protect against stress, nervousness and anxiety, fatigue, insomnia;

This plant is believed to enhance immunity, and give energy;

In traditional medicine, Terminalia Arjuna is an effective remedy in case of hypertension ( high blood pressure);

Not to mention that Arjuna is used as an aphrodisiac, it is able to increase libido and potency.
CONTRAINDICATIONS:
Terminalia Arjuna has few contraindications.
But, since it is assumed that Arjuna lowers blood sugar levels, people with diabetes should adjust the dose they take with their doctor.
Should not be taken during pregnancy and breast-feeding period.
INTERESTING FACTS AND HISTORY:
They wrote about medical properties of Arjuna: "We found a plant that works such miracles that it is hard to imagine that it exists in reality."
Arjuna balances all three doshas - kapha, pitta and vata.
Terminalia Arjuna tree bark contains coenzyme Q-10, which is extremely useful for strengthening the heart muscle.
Arjuna is a natural tonic, it balances the whole body and its vital functions and is actively used in Ayurveda. In addition, it is one of the main cardiotonics in Ayurveda.
In Ayurveda, Terminalia Arjuna is better known as Kooha. In the 6th century AD, Sri Wagbhata, a physician, historian, and author of numerous treatises, wrote about Arjuna powder as an effective tool in the treatment of hemorrhages, wounds, and ulcers.
The name of the genus Terminalia comes from the Latin word "terminus", which means "the ending". The scientists gave the genus this name because its leaves are formed only at the very tip of the shoots.
The specific name Arjuna is associated with the hero of the ancient Indian epos "Mahabharata", a twin of the god Krishna.
*This article is for informational purposes only. We suggest consulting a physician before using these or any other herbal supplements.