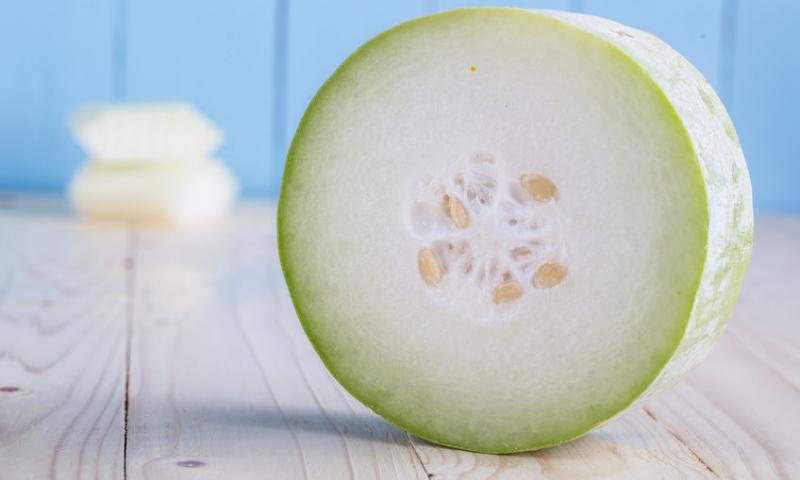 />
LATIN NAME: Benincasa Hispida.
CHINESE NAME: DONG GUA ZI.
COMMON NAMES: wax gourd, ash gourd, white gourd, winter gourd, tallow gourd, ash pumpkin, and winter melon.
BOTANICAL INFORMATION: Benincasa hispida is a grassy vine in the Cucurbitaceae family. Initially, the plant was cultivated only in the countries of South-East Asia, then it has widely spread in the countries of South and East Asia. The fruits of the wax pumpkin have medicinal properties and are widely used in folk medicine, for example, in China. Its stems can reach 4 m length, with an average thickness comparable to a pencil. Leaves are smaller than those of other pumpkins, long-petioled, lobate. Male and female flowers of this pumpkin are very attractive, orange-yellow, large, with a diameter of about 15 cm, they have 5 orange petals, very decorative and fragrant. The fruits of the Benincasa Hispida are round and oblong. Their weight can reach 10 kg.
TASTE: sweet.
ASH GOURD JUICE:
Remove the skin and seeds from the ash gourd. Cut it and blend to a smooth puree. Strain. Add 6 tsp of lemon juice, 3 tsp of black pepper powder, and 3 tsp of salt. Mix properly. The juice is ready.
"I would rather sit on a pumpkin and have it all to myself than be crowded on a velvet cushion"
Henry David Thoreau
*This article is for informational purposes only. We suggest consulting with a physician before using these or any other herbal supplements.