/>
If you do not agree with these terms you must leave the website immediately:
Our products are herbal dietary supplements and have not been evaluated by the Food and Drug Administration, are not intended to diagnose, treat, cure or prevent any disease. Information and statements made are for education purposes and are not intended to replace the advice of your treating doctor. We suggest consulting a physician before using our or any other herbal supplements. Hawaii Pharm does not dispense medical advice, prescribe, or diagnose illness. The views and nutritional advice expressed by Hawaii Pharm are not intended to be a substitute for conventional medical service. Your use of the website, its content, and any services or products obtained through the website is at your own risk. In no event will Hawaii Pharm, its affiliates or their licensors, service providers, employees, agents, officers, owners or directors be liable for damages of any kind, under any legal theory, arising out of or in connection with your use, or inability to use, the products, any content on the website or any services obtained through the website or such other websites, including any direct, indirect, special, incidental, consequential, or punitive damages, including but not limited to, personal injury, pain and suffering, emotional distress, loss of revenue, loss of profits, loss of business or anticipated savings, loss of use, loss of goodwill, loss of data, and whether caused by tort (including negligence), breach of contract, or otherwise, even if foreseeable.
Barley is one of the ancient agricultural crops. People began to cultivate it hundreds of years ago. Since then, it has become an indispensable product for most of the inhabitants of the earth. People prepare drinks, make flour, groats, feed animals with it and use in medicine.
Latin Name: Hordeum vulgare
Family: Poaceae
Genus: Hordeum
Distribution Area: there is no wild barley in nature. Barley is grown in the fields throughout Russia, the United States, Africa and Asia Minor
Parts used: grain, grass, seeds
Botanical information: Barley is an annual grass of 60-120 cm height. The rhizome may be one or several internodes in length. The stems are erect and made up of hollow, cylindrical internodes, separated by the nodes, which bear the leaves. Barley plant consists of a central stem and 2-5 branch stems, called tillers. Barley leaves are linear 5-15 mm wide. The leaf structure consists of the sheath, blade, auricles and ligule. The inflorescence of barley is referred to as the ear, head or spike. The flowering units, the spikelets, are attached directly to the central axis, or rachis, which is the extension of the stem that supports the spike.
CHEMICAL COMPOSITION
Grains of barley are a very valuable source of nutrients. It should be noted that this product is 65% composed of slowly digestible carbohydrates, another 5% is useful fiber. The seeds of the plant also contain proteins that are fully absorbed by the human body.
In addition, barley grains are characterized by a high content of calcium, phosphorus, potassium, sodium and magnesium. In this product, there is a large amount of zinc, iron, copper, manganese and selenium.
Thanks to the composition and high content of nutrients the oatmeal of barley grains should be an integral part of the human diet.
Barley grass has
11 times more calcium than cow's milk

5 times more iron than spinach

7 times more Vitamin С and bio-flavonoids than orange juice

2 times more beta-carotene than carrot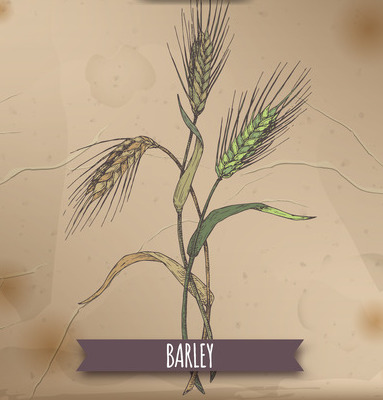 PREPARATION AND DOSAGE
To make a decoction, add 20 grains of barley to 1 cup (250 ml) of hot water. Bring to a boil, then reduce heat and simmer for 10 minutes. Take 1 to 2 tablespoons (15 to 30 ml) 4 to 6 times a day.
"Agriculture is the most useful, most healthful and most noble employment of man"
George Whashington
*This article is for informational purposes only. We suggest consulting with a physician before using these or any other herbal supplements.