/>
Barley is one of the ancient agricultural crops. People began to cultivate it hundreds of years ago. Since then, it has become an indispensable product for most of the inhabitants of the earth. People prepare drinks, make flour, groats, feed animals with it and use in medicine.
Latin Name: Hordeum vulgare
Family: Poaceae
Genus: Hordeum
Distribution Area: there is no wild barley in nature. Barley is grown in the fields throughout Russia, the United States, Africa and Asia Minor
Parts used: grain, grass, seeds
Botanical information: Barley is an annual grass of 60-120 cm height. The rhizome may be one or several internodes in length. The stems are erect and made up of hollow, cylindrical internodes, separated by the nodes, which bear the leaves. Barley plant consists of a central stem and 2-5 branch stems, called tillers. Barley leaves are linear 5-15 mm wide. The leaf structure consists of the sheath, blade, auricles and ligule. The inflorescence of barley is referred to as the ear, head or spike. The flowering units, the spikelets, are attached directly to the central axis, or rachis, which is the extension of the stem that supports the spike.
CHEMICAL COMPOSITION
Grains of barley are a very valuable source of nutrients. It should be noted that this product is 65% composed of slowly digestible carbohydrates, another 5% is useful fiber. The seeds of the plant also contain proteins that are fully absorbed by the human body.
In addition, barley grains are characterized by a high content of calcium, phosphorus, potassium, sodium and magnesium. In this product, there is a large amount of zinc, iron, copper, manganese and selenium.
Thanks to the composition and high content of nutrients the oatmeal of barley grains should be an integral part of the human diet.
Barley grass has
11 times more calcium than cow's milk

5 times more iron than spinach

7 times more Vitamin С and bio-flavonoids than orange juice

2 times more beta-carotene than carrot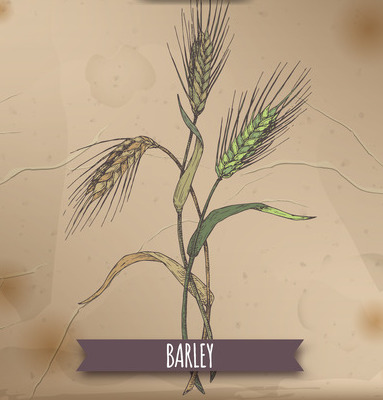 HEALTH BENEFITS OF BARLEY
In comparison with wheat, rye or corn, there is little starch in the barley and a lot of fiber, its content gives in only to oats. Thereby barley grain is a dietary product. Its use makes it possible to purify the body of harmful substances, it improves digestion and promotes the growth of beneficial bacteria in the intestine. It is useful for diabetics, who want to lose weight and people suffering from allergies.
Barley, the properties of which have a positive effect on the body were seen by our ancestors, is still used to get rid of many diseases. It is based on the preparation of lotions, drugs and compresses.
The decoction of barley is especially valued in folk medicine. It helps in the treatment of:
dysbiosis and constipation

diabetes

respiratory organs: tuberculosis, pneumonia, pharyngitis, tonsillitis, bronchitis

gastrointestinal diseases: ulcers, colitis, gastroduodenitis, cholecystitis

inflammatory diseases of the bile duct and liver, as well as with cirrhosis

diseases of the bladder and kidneys

skin diseases: herpes, fungus, furunculosis, acne, urticaria, diathesis, seborrhea, psoriasis, eczema

diseases of blood vessels and heart: tachycardia, arrhythmia, atherosclerosis, hypertension, varicose veins

stroke and heart attack
Barley helps in cleansing the body of cholesterol and toxins, and also has a general strengthening and immunostimulating effect. It is recommended to increase lactation and to strengthen cartilage and bone tissue. Barley decoction can be used as an antipyretic, to reduce the acidity of the stomach and get rid of dry cough.
Barley is useful for preserving youth. It slows down aging, prevents the appearance of premature wrinkles, and keeps the skin supple and elastic. Therefore, the crushed grains of barley, as well as infusions and decoctions cooked from it, can be used for home cosmetic products.
Beneficial properties of barley also include:
Reducing risk of gallstones

prevention of osteoporosis

Control of blood cholesterol level

Prevention of cancer and heart ailments

Helping with anaemia

Prevention of asthma

Contributing of healthy hair

Lowering of blood sugar

Treating of ulcerative colitis

Prevention of liver diseases

Being a useful remedy for alcohol and drug addiction

Having an antioxidant power

Acting as a natural detoxifier

Repairing DNA
Barley is also used as a tonic for patients who have recently undergone abdominal surgery and is recommended for treating inflammations of the bladder and the kidneys. A barley decoction helps to relieve colds, bronchitis and cough. Herbalists prescribe a fresh barley decoction as an anthelmintic to treat ascariasis, caused by intestinal worms. Taken internally, barley malt treats a wide variety of health problems, including psoriasis, lichen planus, collagenosis, furunculosis, vitiligo, pimples, and baldness. Barley malt baths are considered effective for relieving symptoms of dermatitis, ichthyosis, and erythroderma. A poultice made from barley malt and barley flowers is used for treating mastitis, furunculosis, and other inflammatory diseases. In folk medicine, barley is used to treat diseases of the urinary tract as well as hemorrhoids. Barley consumption is popular for relieving swelling and is believed to reduce tumors and clear jaundice. Barley mucilage is used to alleviate diarrhea and pain from colitis.
CONTRAINDICATIONS AND POSSIBLE SIDE EFFECTS
Barley is an absolutely non-toxic, hypoallergenic product. Despite the useful properties of barley, there are contraindications to its use for people suffering from
chronic pancreatitis

cholecystitis

gastritis with high acidity

peptic ulcer of the stomach

duodenum
In addition, you should remember that the barley plant reduces the sexual desire, if you use barley decoction in combination with honey.
BARLEY DRUG INTERACTIONS
Moderate interaction with Medications for diabetes (Antidiabetes drugs):
Barley can lessen blood sugar level by reducing the soaking up of sugars from food. The main property of Antidiabetes drugs is to decline blood sugar as well. Contemporaneous using of barley and such medications for diabetes as glimepiride (Amaryl), glyburide (DiaBeta, Glynase PresTab, Micronase), insulin, pioglitazone (Actos), rosiglitazone (Avandia), chlorpropamide (Diabinese), glipizide (Glucotrol), tolbutamide (Orinase), and others, can provoke too low, life-threatening blood sugar level in the body. Observe you blood sugar vigilantly. Consult a doctor, as your diabetes medication dosage might to be changed.
Moderate interaction with Medications taken by mouth (Oral drugs):
Barley includes a huge quantity of fibrous material. Fiber can lessen the amount of medications the organism soaks up. Simultaneous consumption of barley and oral drugs can reduce the medication benefits. To avert this interaction consume barley preparations no less than 1 hour after you take oral drugs.
PREPARATION AND DOSAGE
To make a decoction, add 20 grains of barley to 1 cup (250 ml) of hot water. Bring to a boil, then reduce heat and simmer for 10 minutes. Take 1 to 2 tablespoons (15 to 30 ml) 4 to 6 times a day to treat diarrhea and other intestinal problems.
"Agriculture is the most useful, most healthful and most noble employment of man"
George Whashington
*This article is for informational purposes only. We suggest consulting with a physician before using these or any other herbal supplements.