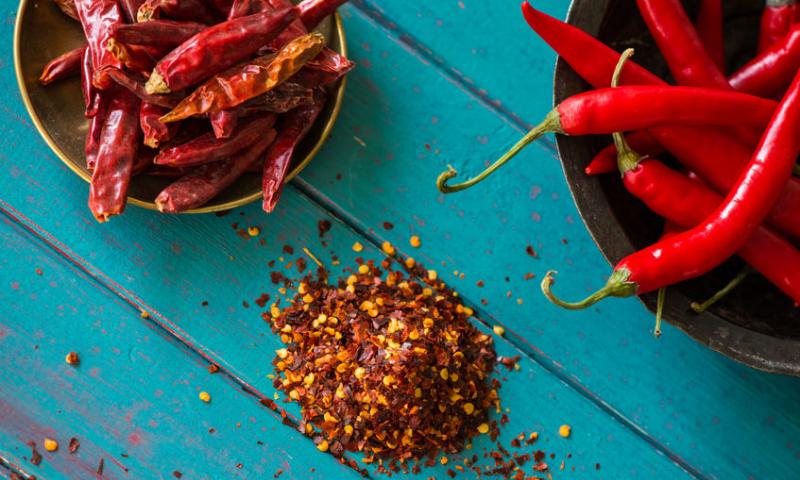 />
LATIN NAME: Capsicum Annuum
GENUS: Сapsicum
SPECIES: C. annuum
CULTIVAR: Cayenne
HEAT: Very hot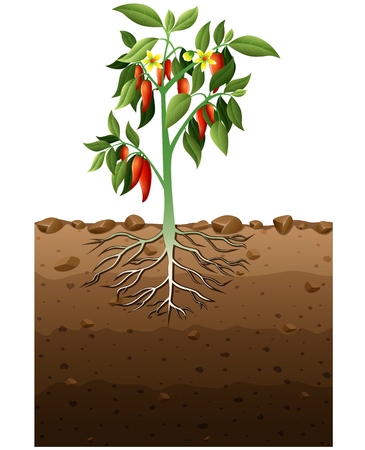 BOTANICAL INFORMATION: The perennial shrub is 20-120 cm high. The leaves are elliptical, smooth, and regular. The flowers are mostly white, yellow or purple. The fruit is a false berry of oblong shape. The thickness of the walls is 1-2 mm. The color is green, yellow (at the stage of ripeness), light orange, red and of darker shades (ripped).
CHEMICAL COMPOSITION
Cayenne pepper contains:
essential oil

alkaloids piperidine

havicin

capsaicin

vitamins A, C, group B

phosphorus

iron

calcium
HEALTH BENEFITS
Benefits for the circulatory system:
The main benefit of cayenne pepper is the stimulation of blood circulation. When it is used, the movement of blood through the vessels is accelerated instantaneously, and nutrients are spread over the cells of the body much faster. Cayenne pepper promotes the purification of blood, improves its composition, and leads to strengthening of the immune system and overall health of the body. Thanks to cayenne pepper, the vessels are cleared of cholesterol deposits; it is one of the main reasons of atherosclerosis. The functioning of the myocardium (cardiac muscle) is normalized; it prevents the development of coronary heart disease, heart attack, stroke and other cardiovascular diseases.
Benefits for the digestive system:
Cayenne pepper favorably affects the functioning of the gastrointestinal tract. This spice promotes better digestion of food, stimulates intestinal peristalsis. Surprisingly, some folk healers use cayenne pepper even for the treatment of stomach ulcers. The medications based on this spice, promotes healing of the damaged mucous membrane of the stomach.
Natural antibiotic and stimulant:
Cayenne pepper is a powerful anti-inflammatory and antimicrobial agent. It has a disastrous effect on various pathogens, and especially on fungal infections. When having the exacerbations of arthritis, this spice is able to remove inflammation of the joints quickly and eliminate pain. Returning to stimulating the circulatory process, it should be noted that the use of cayenne pepper increases the flow of blood to the organs of the small pelvis. This helps to increase potency, so men constantly include this spice in their diet.
CAYENNE PEPPER CAN STOP A HEART ATTACK IN 50 SECONDS
A famous herbalist, John Christopher, was the first who discovered this fantastic effect. He has been searching for a magic potion that would help people to avoid heart attacks for his entire medical career, and even has invented a special formula consisting of 50 different herbs.
But one day he found an ingredient that crossed out his previous work! This ingredient is cayenne pepper!
During his work, Christopher found out that this wonderful seasoning can stop a heart attack in 50 seconds! According to him, this method has already saved thousands of lives!
So first of all, make sure that this lovely pepper is always in your kitchen!
When a member of your family complains of severe chest pain, immediately add a teaspoon of ground cayenne pepper to a glass of water, mix it and give a drink to the patient! A person must be conscious.
If the person is lying next to you already unconscious, try taking an extract of cayenne pepper and applying a few drops under his tongue. This can work as well!
The reason is that cayenne pepper is a powerful stimulant. It increases the heart rate and allows the body to pump blood more quickly through all of its tissues. In addition, it is known that cayenne pepper stops internal bleeding immediately!
Remember: many health experts say that if all people knew this trick, we could save a lot of lives!
INDICATIONS FOR USE
Cayenne pepper is used when having:
UPSET STOMACH, INTESTINAL GAS, STOMACH PAIN, DIARRHEA, CRAMPS
POOR CIRCULATION, EXCESSIVE BLOOD CLOTTING, HIGH CHOLESTEROL
TOOTHACHE, SEASICKNESS, ALCOHOLISM, MALARIA, FEVER, DIFFICULTY SWALLOWING
SHINGLES, OSTEOARTHRITIS, RHEUMATOID ARTHRITIS, FIBROMYALGIA, NERVE PAIN (NEUROPATHY, NEURALGIA), BACK PAIN
MUSCLE SPASMS, LARYNGITIS, THUMB-SUCKING, NAIL-BITING
HAY FEVER, MIGRAINE HEADACHE, CLUSTER HEADACHE, SINUS INFECTIONS (SINUSITIS)
CONTRAINDICATIONS AND POSSIBLE SIDE EFFECTS
Cayenne pepper can cause:
skin irritation

burning

itching

irritation of the eyes, nose, and throat

stomach irritation

upset

sweating

flushing

runny nose

sneezing

watery eyes
Cayenne pepper is contraindicated in the following situations:
pregnancy

breast-feeding

children

damaged or broken skin

surgery

diseases of the gastrointestinal tract (gastric ulcer, increased gastric acidity, gastritis)

various kidney diseases

an easily excitable nervous system

epileptic seizures, convulsions
DRUG INTERACTIONS
Moderate Interaction with Medications that slow blood clotting (Anticoagulant / Antiplatelet drugs):
Capsicum can decelerate blood clotting. Simultaneous taking of Capsicum and antiplatelet medications such as aspirin, clopidogrel (Plavix), diclofenac (Voltaren, Cataflam, others), ibuprofen (Advil, Motrin, others), naproxen (Anaprox, Naprosyn, others), dalteparin (Fragmin), enoxaparin (Lovenox), heparin, warfarin (Coumadin), and others can strengthen the risks of bruising and bleeding. Before using, consult a doctor.
Moderate Interaction with Theophylline:
Capsicum can enlarge the amount of theophylline the organism can soak. Parallel consumption of capsicum and theophylline can intensify the efficacy as well as undesirable effects of theophylline.
CAYENNE PEPPER TINCTURES
Add 25 g of pepper to 200 ml of vodka and leave the tincture in the dark place for 14 days. Take 20 drops during the meal when having intestinal disorder, cerebral circulation disorder and to restore potency.
You can use this tincture recipe for weight loss as well. Mix 15 drops of tincture and half a glass of water. Take 30 minutes before meals.
INTERESTING FACTS ABOUT PEPPERS
Birds are immune to the spice in hot peppers.

All peppers belong to the same species.

Cayenne is used in eastern and western traditions.

There's a hotness scale for peppers.

You can play pepper roulette.

Eat a pepper if you have a stuffy nose.
"If you master only one herb in your life, master cayenne pepper. It is more powerful than any other."
Dr. Schulze
*This article is for informational purposes only. We suggest consulting with a physician before using these or any other herbal supplements.