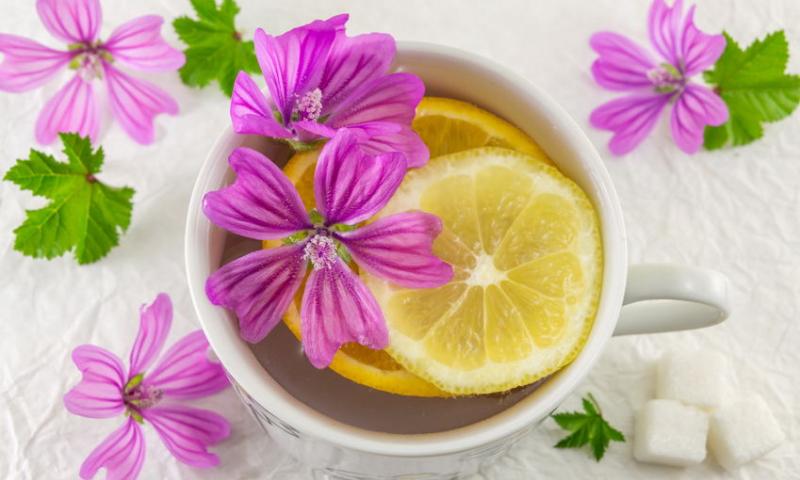 />
Latin Name: Malva Sylvestris
Genus: Malva
Family: Malvaceae
Common Names: common mallow, cheeses, high mallow and tall mallow.
Origin and Distribution Area: it has migrated from its native home in Western Europe, North Africa and Asia through the world.
Malva Sylvestris is a vigorously healthy plant with showy flowers of bright mauve-purple, with dark veins; a handsome plant, often standing 3 or 4 feet (1 m) high and growing freely in fields, hedgerows and in fallow fields.
CHEMICAL COMPOSITION OF MALVA
polysaccharides (mucus, fructose, sucrose, glucose)

vitamins (especially plenty of vitamin C)

choline

tannins

pigments

essential oil

glycosides (malvin)
Seeds contain fatty oil about 18%. Unique therapeutic properties are mostly possessed thanks to secreted mucus.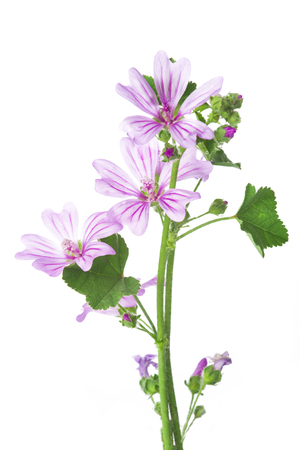 HEALING PROPERTIES OF MALVA
expectorant

softening

vitamin

reparative

enveloping

anti-inflammatory
APPLICATION OF MALVA
It is recommended to use special tinctures and various decoctions with the addition of malva for serious diseases of the throat, inflammation of the mouth. Thanks to this particular healing plant, the mucous membranes are quickly restored, and the inflammation disappears. Malva is often used as a compress for extensive wounds and ulcers. When having eye swelling it is recommended to use a special compress with the use of such a healing plant.
Thanks to phytoestrogens, malva breast compresses significantly improve the elasticity of tissues. It should be mentioned that this medicinal plant is widely used in cosmetology. Extract of malva is used as a vitamin remedy, which helps moisturize the skin and fight various purulent inflammations. You can also notice malva in the composition of medical cosmetics, which helps to restore the epidermis.
A powerful plant root can also be used for medicinal purposes. We can make a delicious decoction from malva root, known for its unique useful properties. You may use the decoction as an external remedy as well as internal one. In addition, a unique tincture based on malva roots is widely used for compresses and for treating various inflammations effectively.
In China, malva root is used as a medicine for the dangerous bronchitis and pneumonia treatment. In Tibet medicine, this plant is used as a diuretic. In addition, the roots are prescribed for colds, coughing, as well as for numerous diseases of the stomach and for the treatment of diarrhea.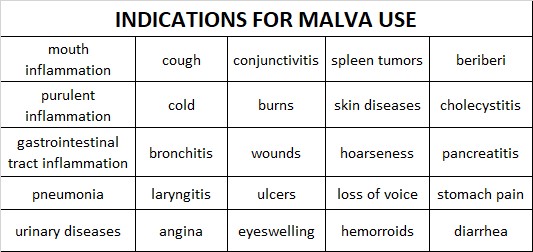 MALVA EXTRACT
The miracle extract of malva has been used since ancient times. It is easily obtained by soaking the leaves and flowers of the plant. Thanks to essential vitamins and amino acids, it effectively removes swelling, and soothes the skin. The extract is considered to be an excellent stimulant that restores the skin delicately, stimulating the regeneration of cells, helps to accelerate cell metabolism and synthesizes collagen. Herbalterra produces high-quality herbal extracts using a cold maceration method of extraction to ensure that the broad spectrum of therapeutic plant compounds - vitamins, minerals, alkaloids, flavonoids and other active constituents of the herbs are fully extracted and maintained. You can buy Malva (Malva sylvestris) Tincture from Dried Flowers and Malva (Malva sylvestris) Tincture from Dried Leaves without leaving home.
Moreover, this excellent extract has a beneficial effect on the regulation of maturation of skin cells. Malva gel is manufactured thanks to polysaccharides, which are part of the flowers of the plant. It has a soothing effect on the skin. This plant is contained in baby shampoos, various means for removing make-up, creams for sensitive skin, refreshing shower gels and various balms.
CONTRAINDICATIONS
Malva is a safe product. Numerous remedies and pharmacological preparations based on this plant also do not have contraindications. This applies to both the flowers and the leaves. Large doses, however, can be used as a laxative and in turn cause diarrhea.
The only restriction is allergy to malva.
MALVA REMEDIES
Soothing Cough Mixture: Place two teaspoons of fresh torn up malva flowers or herb in half a cup of cold water, cover and leave the mixture  for at least four hours. Strain and add honey and lemon to taste. When having cough take syrup as often as needed.
Stomach Soothing Malva Tea: Add one and a half teaspoons of malva to a cup, pour on boiling water; cover and leave to infuse for twenty minutes, strain and drink.
"When words escape, flowers speak"

Bruce W. Currie
*This article is for informational purposes only. We suggest consulting with a physician before using these or any other herbal supplements.