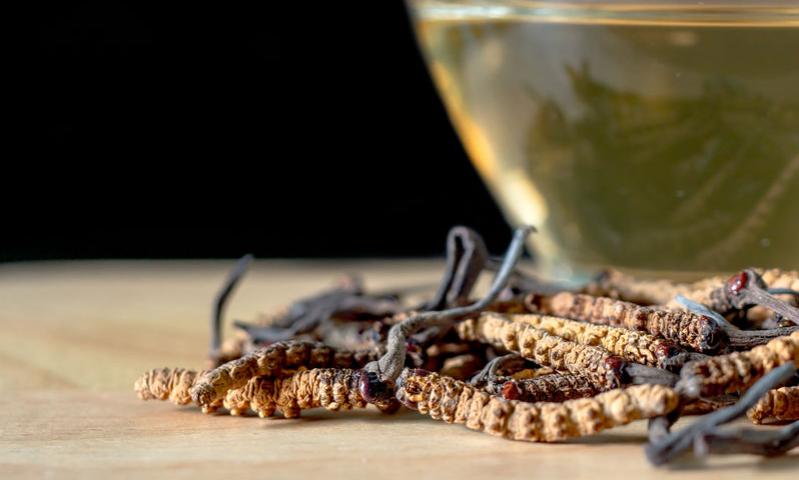 />
LATIN NAME: Cordyceps Sinensis.
CHINESE NAME: Dong Chong Xia Cao.
COMMON NAMES: caterpillar fungus, yartsa gunbu.
BOTANICAL INFORMATION: Cordyceps Sinensis is a species of fungi from the Ophiocordycipitaceae family. It acts as a parasite and grows on insects. In the warm season, the cordyceps spore penetrates into the larva of one of the butterfly species (Hepialus armoricanus), with the onset of vegetation, this spore is transformed into a root. The body of the fungus grows from the root, in appearance resembling a blade of grass. Cordyceps parasitizes on different arthropods, including caterpillars and ants. Spores of the fungus penetrate into the body of the insect and, eating it, gradually kill it and mummify. The mature fungus looks like a dried yellow-brown caterpillar with a dark brown bough.
CORDYCEPS TEA RECIPE:
Pour 12 oz of boiling water over 1 tablespoon of cordyceps powder and steep for 10 minutes. Then add 4 thin slices of fresh ginger and 2 teaspoons of lemon juice and steep for 5 minutes more. When ready, strain and serve in a warm mug.
"The Earth has music for those who listen"
George Santayana
*This article is for informational purposes only. We suggest consulting with a physician before using these or any other herbal supplements.