/>
Latin Name: Inula Helenium
Family: Asteraceae
Common Names: elfdock, horse elder, horse-heal
Origin: it is native to Europe and Asia from Spain to China, and naturalized in parts of North America
Habitat: by roadsides and in waste places of western Russia, northern Europe, and much of the United States
Part used: flowers, leaves, rootstock
Botanical information: it is a noticeable and impressive plant. The plant springs from a perennial rootstock, which is large and succulent, spindle-shaped and branching, brown and aromatic, with large, fleshy roots. Its vertical, sturdy and deeply grooved stem is from 4 to 5 feet high. It is branched on the top. Elecampane's leaves are vast, ovate, tapered, with dentate margin, of 1-1.5 feet long and 4 inches broad. The plant is in bloom from June to August. Bright yellow flowers of 3 to 4 inches in diameter grow on long stems, resembling a double sunflower.
Actions: anthelmintic, antibacterial, antiphlogistic, cholagogue, digestive, diuretic, emmenagogue, expectorant, hemostatic, stimulant, stomachic, sudorific, tonic, vulnerary
CHEMICAL COMPOSITION
Inulin

Saponins

Resins

Mucus

Acetic acid

Benzoic acid

Alkaloids

Vitamin E

Essential oil

Manganese

Magnesium

Potassium

Calcium

Iron

Ascorbic acid

Bitter substances

Flavonoids

Pectin
The substances, contained in root and rhizome, determine useful properties of elecampane. Among them, various resins, wax, from one to three percent of essential oil in the form of crystals, vitamin E, saponins, up to forty-four percent of inulin polysaccharide, and mucus. The decoction obtained from the rhizomes and roots of the plant is prescribed with the inflammatory processes of the intestine or stomach, with coughs and bronchitis with dense secretions, as well as in case of liver and kidney disease, has anthelmintic and diuretic properties, relieves inflammation, etc.
The tocopherol (in another way - vitamin E) helps people suffering from signs of premature aging, since this vitamin is a natural antioxidant.
Decoction of elecampane is indispensable with skin diseases. Having problems with skin make a strong decoction and add it when taking baths. You can also apply a special ointment made of elecampane externally, which cures from itching, scabies, etc. The mucus, resin and gum in the plant have a beneficial therapeutic effect, since they envelop the walls and thus protect the intestinal and stomach mucosa, as well as the pharynx.
INDICATIONS FOR ELECAMPANE USE
For roots and rhizomes usage: bronchitis; bronchial asthma; tuberculosis; liver disease; skin diseases; violation of the menstrual cycle; anemia; hemorrhoids; diabetes; gastritis; colitis; cholecystitis; ulcer; pancreatitis; hypertension; migraine; epilepsy; whooping cough.
For flowers usage: pneumonia; bronchiectasis; hypoxia; throat diseases; impaired cerebral circulation; tachycardia; angina pectoris.
For leaves usage: parodontosis; diseases of the oral mucosa; diseases of the digestive system; dermatomycosis; gonorrhea; atherosclerosis.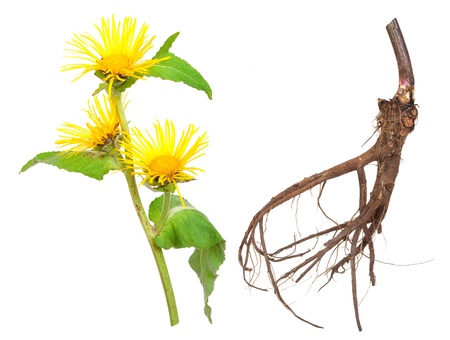 APPLICATION OF THE ELECAMPANE
Most of all beneficial properties are manifested in the treatment of the gastrointestinal tract. Here the rhizomes and roots remove inflammation and spasm, reduce the acidity of the contents of the stomach, normalizing its motor function and secretory function. They also restore the normal flow of stomach contents into the intestine and the state of the gastrointestinal microflora, increase bile secretion and mucus production. Kill fungi and parasitic organisms. They are especially detrimental to the ascarids.
The expectorant and disinfectant effect of elecampane has been proved, especially in cases of heavy sputum evacuation and its increased viscosity. The plant has a general positive effect on the inflamed mucosa of the upper respiratory tract.
Elecampane has found its application in medicine as an expectorant for pulmonary tuberculosis, bronchitis, tracheitis and other inflammatory diseases of the upper respiratory tract. Use it in the treatment of influenza, fever and ARI.
Rhizomes and roots of elecampane are used in the treatment of peptic ulcer, gastritis, gastroenteritis, diarrhea of ​​various origin and other gastrointestinal diseases.
Elecampane is indicated for epilepsy, neurosis, atherosclerosis, diabetes mellitus. Included in the collections for the treatment of skin diseases. Serves as an antifungal and anthelmintic. The root of elecampane is used in gynecology when having the absence of menstruation (amenorrhea), hypomenstrual syndrome (meager, irregular menstruation).
In folk medicine, the root of elecampane is used for cough, non-healing and purulent wounds, jaundice, cystitis, arthritis, hemorrhoids, eczema, furunculosis, itching dermatosis. Venereal diseases are treated with the help of it.
The root of elecampane has the ability to normalize the digestive system, which leads to an acceleration of bowel evacuation. Bitter substances, which are part of the root of elecampane, reduce the craving for sweets.
Elecampane's roots are also used in cosmetology: for cleansing, toning, rejuvenating the skin of the face. It is also used for hair care: the root of elecampane is a tonic and anti-dandruff remedy. Rinse hair after washing with infusion or rub it into the roots of the hair.
ELECAMPANE DRUG INTERACTIONS
Moderate interaction with Sedative medications (CNS depressants):
Elecampane can cause tiredness and somnolence as well as sedative medications such as clonazepam (Klonopin), lorazepam (Ativan), phenobarbital (Donnatal), zolpidem (Ambien), and others. Concurrent using of the eleuthero and listed medications can be the reason of a strong feeling of sleepiness. Before using, consult a doctor.
CONTRAINDICATIONS AND POSSIBLE SIDE EFFECTS
Decoction and infusion of the roots of elecampane is not recommended for people who suffer from gastritis, accompanied by low acidity, since this plant reduces the secretion of digestive enzymes directly in the stomach. In addition, it is extremely important to comply with the dosage of remedy; otherwise, the following symptoms of poisoning may occur:
excessive salivation

general weakness

nausea

weakening of cardiac activity

vomiting

slowing of breathing

allergic reaction
Therefore, remedies from elecampane must only be used as prescribed by a doctor.
PREPARATION AND DOSAGE
To make a decoction, place 2 tablespoons (30 g) of roots into a pot and add 1 cup (250 ml) of hot water. Cover loosely, bring to a boil, then reduce heat and simmer gently for 30 minutes. Strain. Take warm 1\2 cup (125 ml) 2-3 times daily 1 hour before meals.
"Where flowers bloom, so does hope"
Lady Bird Johnson
*This article is for informational purposes only. We suggest consulting with a physician before using these or any other herbal supplements.