/>
If you do not agree with these terms you must leave the website immediately:
Our products are herbal dietary supplements and have not been evaluated by the Food and Drug Administration, are not intended to diagnose, treat, cure or prevent any disease. Information and statements made are for education purposes and are not intended to replace the advice of your treating doctor. We suggest consulting a physician before using our or any other herbal supplements. Hawaii Pharm does not dispense medical advice, prescribe, or diagnose illness. The views and nutritional advice expressed by Hawaii Pharm are not intended to be a substitute for conventional medical service. Your use of the website, its content, and any services or products obtained through the website is at your own risk. In no event will Hawaii Pharm, its affiliates or their licensors, service providers, employees, agents, officers, owners or directors be liable for damages of any kind, under any legal theory, arising out of or in connection with your use, or inability to use, the products, any content on the website or any services obtained through the website or such other websites, including any direct, indirect, special, incidental, consequential, or punitive damages, including but not limited to, personal injury, pain and suffering, emotional distress, loss of revenue, loss of profits, loss of business or anticipated savings, loss of use, loss of goodwill, loss of data, and whether caused by tort (including negligence), breach of contract, or otherwise, even if foreseeable.
Latin Name: Inula Helenium
Family: Asteraceae
Common Names: elfdock, horse elder, horse-heal
Origin: it is native to Europe and Asia from Spain to China, and naturalized in parts of North America
Habitat: by roadsides and in waste places of western Russia, northern Europe, and much of the United States
Part used: flowers, leaves, rootstock
Botanical information: it is a noticeable and impressive plant. The plant springs from a perennial rootstock, which is large and succulent, spindle-shaped and branching, brown and aromatic, with large, fleshy roots. Its vertical, sturdy and deeply grooved stem is from 4 to 5 feet high. It is branched on the top. Elecampane's leaves are vast, ovate, tapered, with dentate margin, of 1-1.5 feet long and 4 inches broad. The plant is in bloom from June to August. Bright yellow flowers of 3 to 4 inches in diameter grow on long stems, resembling a double sunflower.
CHEMICAL COMPOSITION
Inulin

Saponins

Resins

Mucus

Acetic acid

Benzoic acid

Alkaloids

Vitamin E

Essential oil

Manganese

Magnesium

Potassium

Calcium

Iron

Ascorbic acid

Bitter substances

Flavonoids

Pectin
The tocopherol (in another way - vitamin E)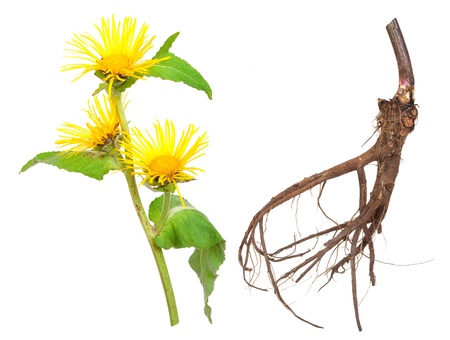 Elecampane roots are used in cosmetology: for cleansing, toning, rejuvenating the skin of the face. It is also used for hair care: the root of elecampane is a tonic and anti-dandruff remedy. Rinse hair after washing with infusion or rub it into the roots of the hair.
PREPARATION AND DOSAGE
To make a decoction, place 2 tablespoons (30 g) of roots into a pot and add 1 cup (250 ml) of hot water. Cover loosely, bring to a boil, then reduce heat and simmer gently for 30 minutes. Strain. Take warm 1\2 cup (125 ml) 2-3 times daily 1 hour before meals.
"Where flowers bloom, so does hope"
Lady Bird Johnson
*This article is for informational purposes only. We suggest consulting with a physician before using these or any other herbal supplements.