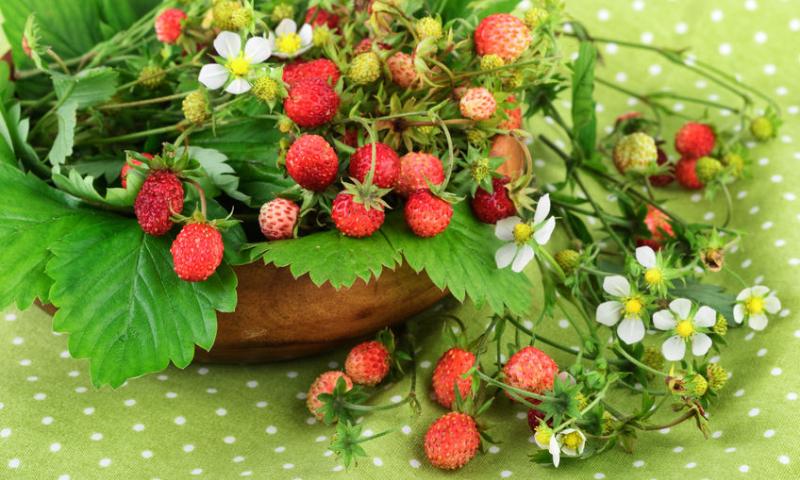 />
LATIN NAME: Fragaria vesca
COMMON NAMES: Alpine strawberry, fraisier des bois, wild strawberry, woodland strawberry, European strawberry, Carpathian Strawberry.
ORIGIN: France, Europe
HABITAT: North America, Europe, India, Western Asia Northern Hemisphere, France.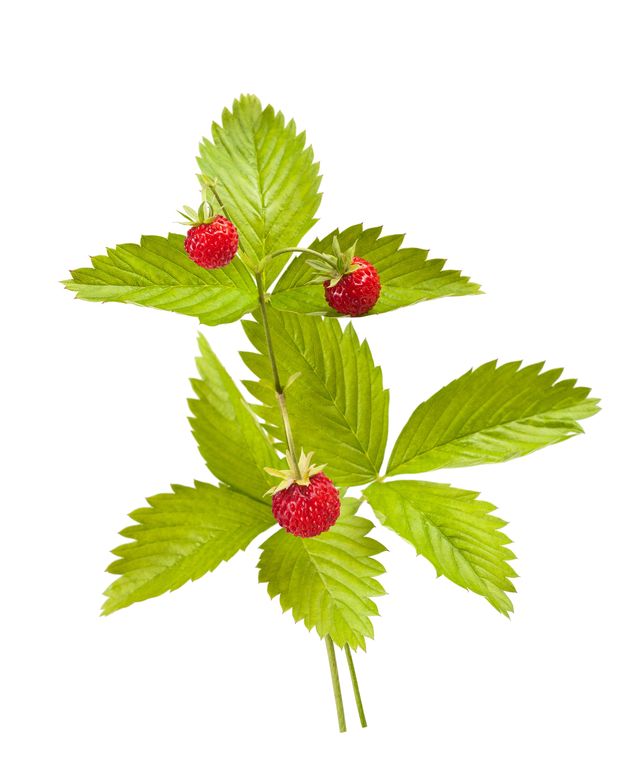 BOTANICAL INFORMATION:
Wild strawberry is a perennial herbaceous plant with a height of 10-20 cm. The root system is a thick rhizome, from which long thin roots depart. The leaves of strawberries are on long petioles, trifoliate, consist of rounded elliptical, serrated at the edges of the leaflets and form a rosette. The strawberry flowers are white. The corolla consists of 5 petals, gathered in racemes on the peduncles. The strawberry berries are round or ovate, red, fragrant.
CHEMICAL COMPOSITION:
The leaves of the plant contain B vitamins, ascorbic acid, carotenoids, organic acids (citric, quinic, malic), sugars, traces of essential oils, flavonoids in an amount up to 2% (mostly rutin), tannins (up to 9%), salt iron, manganese, cobalt, phosphorus. Fruits contain, in addition, folic acid, pectic substances.
Most effective nutrients in the wild strawberry are salicylates and flavonoid fisetin.
ACTIONS:
Fragaria vesca provides alterative, blood thinner, anticancer, alkaline, antibacterial, antiaging effects on the body.
HEALTH BENEFITS:
Wild Strawberry relieves inflammation, removes parasites (worms) and destroys pathogenic microbes, tones up, compensates for the lack of vitamins and minerals, reduces the amount of water in the tissues, contributes to the removal of excess fluid, relieves bile, has a positive effect on blood-forming organs, strengthens the immune system.
INDICATIONS FOR USE:
Strawberry leaves are used in traditional medicine for scurvy, as a hemostatic, astringent and diuretic. Fruits have many beneficial properties and are a dietary product, especially useful for anemia, beriberi, after past illnesses and operations. Alcohol tinctures of strawberries serves as an amazing remedy against sunburn and freckles on the face, as well as against clouding on the cornea. The leaves and roots of strawberries heal wounds and ulcers, have diuretic properties, have a positive effect on the spleen. Rinsing the mouth with wild strawberry decoction strengthens the gums and loose teeth. Infusion of strawberry berries is used for heart pain, hypertension, atherosclerosis, gastritis, colitis, cholecystitis. The infusion of rhizomes and strawberry stems is used when having kidney and liver stones, gout, atherosclerosis, and diarrhea. Infusion of strawberry leaves is used for diseases of the liver, kidney, rickets, scrofula, hemorrhoids, gastritis. A decoction of strawberry leaves is used for bronchial asthma, gastritis, colitis. Juice of fresh strawberries has a hypoglycemic effect, it is recommended for people having diabetes to take 4-6 tablespoons per day.
SIDE EFFECTS AND SPECIAL WARNINGS:
However, strawberry fruits, especially when consumed in large quantities, cause allergies, nausea, itching, swelling of the mucous membranes in some people with hypersensitivity. In these cases, you should use strawberries in small quantities, limit the use of strawberry juice, infusion or decoction of the leaves, or completely abandon its use.
CONTRAINDICATIONS:
In addition to all the medicinal properties, wild strawberry has several contraindications that should be considered. Don't use the plant in the following cases:
chronic liver diseases

problems with gastric secretion

individual intolerance

gastritis

peptic ulcer of the digestive tract

pregnancy

lactation period

child's age
WILD STRAWBERRY HEALTH RECIPES:
Restorative infusion for beriberi: Add 2 tablespoonfuls of dried wild strawberry herb into the glass jar. Pour boiling water over it, cover, and infuse for 30 minutes. Then strain and take 100 ml before meals 3 times a day. This infusion is also used as a mouth rinse during stomatitis.
Alcohol-based tincture: Pour 200 ml of vodka over 2 teaspoons of wild strawberry leaves. Close the container properly and put it to the dark, cool place for up to 7 days, shaking periodically. When ready, strain and take 30 drops before meals 3 times a day. Tincture can strengthen the immune system, as well as help get rid of ARVI. It also normalizes the work of the cardiovascular system and digestive organs, has a tonic effect on the body.
ADVICE FROM A STRAWBERRY
"Blossom where you're planted, be tasteful; drink in the sunshine; keep close to the earth; savor life's sweetness; let good ideas ripen; jam with your friends"
Keep calm and eat strawberries!
*This article is for informational purposes only. We suggest consulting with a physician before using these or any other herbal supplements.