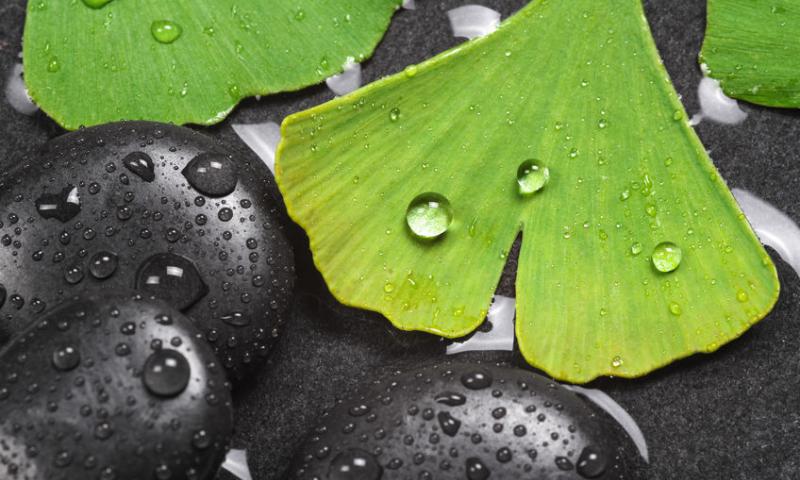 />
LATIN NAME: Ginkgo Biloba.
CHINESE NAME: Bai Guo Ren.
COMMON NAMES: ginkgo or gingko, maidenhair tree.
ORIGIN: is native to China.
BOTANICAL INFORMATION:
Ginkgo trees usually reach a height of 20-35 meters. Ginkgo biloba has a superbly developed root system. The branches are naked and long, with bundles of leaves on top. Young trees are elongated and slender, with a wide-pyramidal crown. Over the years, the ginkgo crown grows, and its apex dulls. The leaves of the plant are bluish-green, petiolate, often divided into two lobes, fan-shaped. In autumn ginkgo foliage is painted in a magnificent decorative, saffron-yellow color. The plant is dioecious.
ACTIONS:
Ginkgo Biloba provides anti-inflammatory, neuroprotective, relaxant, astringent, anti-asthmatic, tonic, antioxidant properties.
HEALTH BENEFITS:
Ginkgo Biloba prevents the formation of thrombi, increases the elasticity of the walls of blood vessels, prevents heart attack and stroke, boosts immunity, improves cerebral and peripheral blood circulation due to increased blood flow and antioxidant activity, increases concentration of attention, reduces absent-mindedness, relieves fatigue, reduces the risk of heart disease, slows down the aging process, improves the function of vision.
INDICATIONS FOR USE:
Ginkgo Biloba is used when having atherosclerosis, vascular diseases, glaucoma, impotence, bronchial asthma, atomic disease and hypertension, brain dysfunction, memory impairment, dizziness, tinnitus, emotional imbalance, irritability, ear vascular disease, hearing loss, intermittent claudication, chilly fingers and toes, depression, nervous condition, headache, Parkinson's disease, Alzheimer's disease, multiple sclerosis.
SPECIAL WARNINGS:
Don't use during pregnancy and breast-feeding. This plant is also forbidden for those who have hypersensitivity to the plant components, hypocoagulation, gastric and duodenal ulcers in the acute stage, erosive gastritis, acute violation of cerebral circulation, acute myocardial infarction.
SIDE EFFECTS:
When taking the exceeded dosage, such adverse reactions as convulsions, hyperthermia, restlessness, vomiting, difficulty in breathing can occur.
"The ginkgo tree is from the era of dinosaurs, but while the dinosaur has been extinguished, the modern ginkgo has not changed. After the atomic bomb in Hiroshima, the ginkgo was the first tree that came up. It's amazing"
Koji Nakanishi
*This article is for informational purposes only. We suggest consulting with a physician before using these or any other herbal supplements.