/>
LATIN NAME: Arnica montana
FAMILY: Asteraceae
GENUS: Arnica
COMMON NAMES: wolf's bane, leopard's bane, mountain tobacco and mountain arnica
DISTRIBUTION AREA: is widespread across most of Europe
HABITAT: grows in nutrient-poor siliceous meadows or clay soils
BOTANICAL INFORMATION: Arnica is a moderately toxic European flowering plant with large yellow flower head. The height of this aromatic perennial herb is about 18-60 cm. The leaves are green, ovate, with rounded tips. The plant flowers between May and August.
CHEMICAL COMPOSITION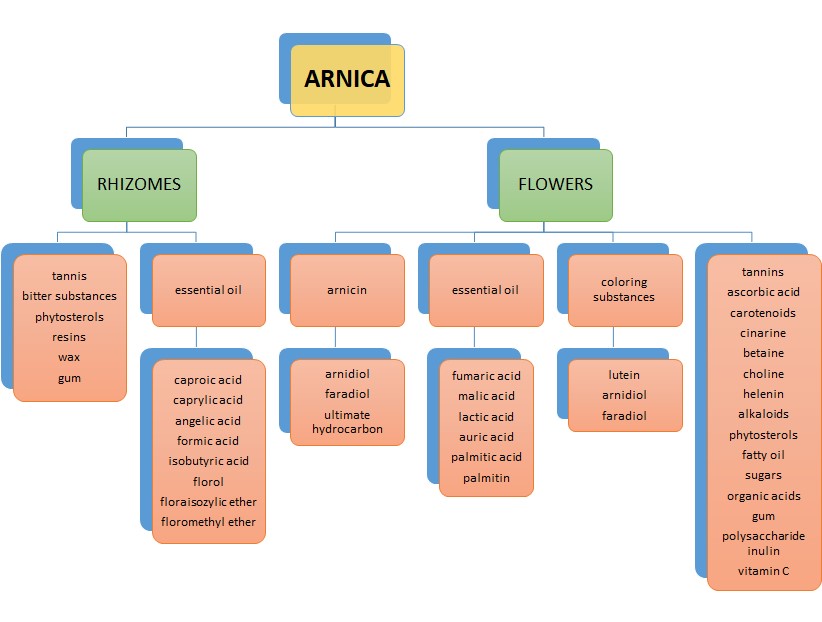 Substances contained in flowers and roots are also found in leaves and stems, but in smaller amount.
APPLICATION AND HEALTH BENEFITS OF ARNICA
Arnica tincture is usually prescribed for the regulation of the CNS tone, since it lowers the reflex excitability of the cerebral cortex. Tincture has a good anticonvulsant and a strong soothing effects.
Decoction, prepared from the flowers of arnica, is considered a good remedy against worms and is successfully used to treat enterobiasis.
Infusion has hemostatic, analgesic, anti-inflammatory and wound-healing effects.
A decoction of roots has an exciting effect on the cardiovascular system; it improves the functioning of the heart muscle, dilates the coronary vessels. It is important to note that the decoction has the property of accelerating the rhythm of the heart and increasing the amplitude of contractions of the heart muscle.
Decoction of arnica helps during the treatment of bloody diarrhea, gout, bronchitis, with gastric diseases, flu, and epilepsy. It is used as well when having convulsions, which are caused by the lifting heavy objects.
Preparations made from arnica have a cholagogue effect, thereby they lower the level of cholesterol in the blood.
Alcohol tincture of flowers is taken internally for various bleedings, for example nasal. In case of external application, it helps when having muscle pain, fractures, and dislocations. It is an effective remedy for nervous diseases, inflammation of the veins, various gastrointestinal problems. Infusion of arnica flowers applies externally for poultices, compresses, for rashes on the skin and on the lips, with furunculosis, bruises, small abrasions, small cuts, rheumatism and lumbago. The infusion copes well with hematomas, various pustular skin diseases, light burns and frostbites.
Arnica effectively treats trophic ulcers and strengthens the vessels of the brain.
Arnica is used when having myocarditis, hypertension, thrombophlebitis, heart failure, sclerosis, angina, and it is effective for the rehabilitation of patients after a stroke and heart attack.
Even health care specialists recommend using arnica with various inflammations of the mouth and throat. The benefit is that the plant strengthens blood circulation, and thus the resistance of the mucous membranes of the oral cavity is stimulated.
Herbalterra produces this extract using a cold maceration method of extraction to ensure that the broad spectrum of therapeutic plant compounds - vitamins, minerals, alkaloids, flavonoids and other active constituents of the herbs are fully extracted and maintained. Take about 20-30 drops (1 ml or 1 full squeeze of the dropper bulb) to 2 oz of juice or water up to 4 times a day.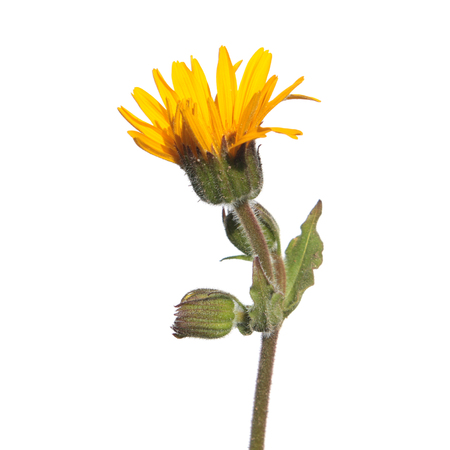 POSSIBLE SIDE EFFECTS
When the dose is exceeded:
irritation of the mouth and throat

stomach pain

vomiting

diarrhea

skin rashes

shortness of breath

fast heartbeat

increased blood pressure

increased bleeding
CONTRAINDICATIONS
pregnancy and breast-feeding

allergy to the asteraceae/compositae family (ragweed, chrysanthemums, marigolds, daisies, and many others)

broken skin

digestion problems

fast heart rate

high blood pressure

surgery
DRUG INTERACTIONS
Moderate Interaction with Medications that slow blood clotting (Anticoagulant / Antiplatelet drugs):
Moderate Interaction with Medications that slow blood clotting (Anticoagulant / Antiplatelet drugs):
Arnica can decelerate blood clotting. Simultaneous taking of arnica and antiplatelet medications such as aspirin, clopidogrel (Plavix), diclofenac (Voltaren, Cataflam, others), ibuprofen (Advil, Motrin, others), naproxen (Anaprox, Naprosyn, others), dalteparin (Fragmin), enoxaparin (Lovenox), heparin, warfarin (Coumadin), and others can strengthen the risks of bruising and bleeding. Before using, consult a doctor.
ARNICA HEALTH RECIPE
To prepare an infusion, add 1 tablespoon (15 g) of dried flowers to ½ cup (125 ml) of hot water. Cover and leave for 10 minutes. Strain. Take 3 tablespoons 3 times a day.
To make a decoction, add 1 tablespoon (15 g) of dried flowers to 1 cup (250 ml) of hot water. Bring to a boil, then lower heat and simmer for 3 to 5 minutes, stirring constantly. Cool and strain. Take 2 tablespoons (30 ml) 3 times daily before meals.
Caution: Arnica should be taken internally only under the guidance of a qualified health-care professional. A normal course of treatment should not exceed 7-10 days.
"Arnica is great. I got kicked in the stomach by a horse once, and some adult slapped arnica all over it, and I had no bruise at all to show for my pain"
Jasmine Guinness
*This article is for informational purposes only. We suggest consulting with a physician before using these or any other herbal supplements.