/>
If you do not agree with these terms you must leave the website immediately:
Our products are herbal dietary supplements and have not been evaluated by the Food and Drug Administration, are not intended to diagnose, treat, cure or prevent any disease. Information and statements made are for education purposes and are not intended to replace the advice of your treating doctor. We suggest consulting a physician before using our or any other herbal supplements. Hawaii Pharm does not dispense medical advice, prescribe, or diagnose illness. The views and nutritional advice expressed by Hawaii Pharm are not intended to be a substitute for conventional medical service. Your use of the website, its content, and any services or products obtained through the website is at your own risk. In no event will Hawaii Pharm, its affiliates or their licensors, service providers, employees, agents, officers, owners or directors be liable for damages of any kind, under any legal theory, arising out of or in connection with your use, or inability to use, the products, any content on the website or any services obtained through the website or such other websites, including any direct, indirect, special, incidental, consequential, or punitive damages, including but not limited to, personal injury, pain and suffering, emotional distress, loss of revenue, loss of profits, loss of business or anticipated savings, loss of use, loss of goodwill, loss of data, and whether caused by tort (including negligence), breach of contract, or otherwise, even if foreseeable.
LATIN NAME: Arnica montana
FAMILY: Asteraceae
GENUS: Arnica
COMMON NAMES: wolf's bane, leopard's bane, mountain tobacco and mountain arnica
DISTRIBUTION AREA: is widespread across most of Europe
HABITAT: grows in nutrient-poor siliceous meadows or clay soils
BOTANICAL INFORMATION: Arnica is a moderately toxic European flowering plant with large yellow flower head. The height of this aromatic perennial herb is about 18-60 cm. The leaves are green, ovate, with rounded tips. The plant flowers between May and August.
CHEMICAL COMPOSITION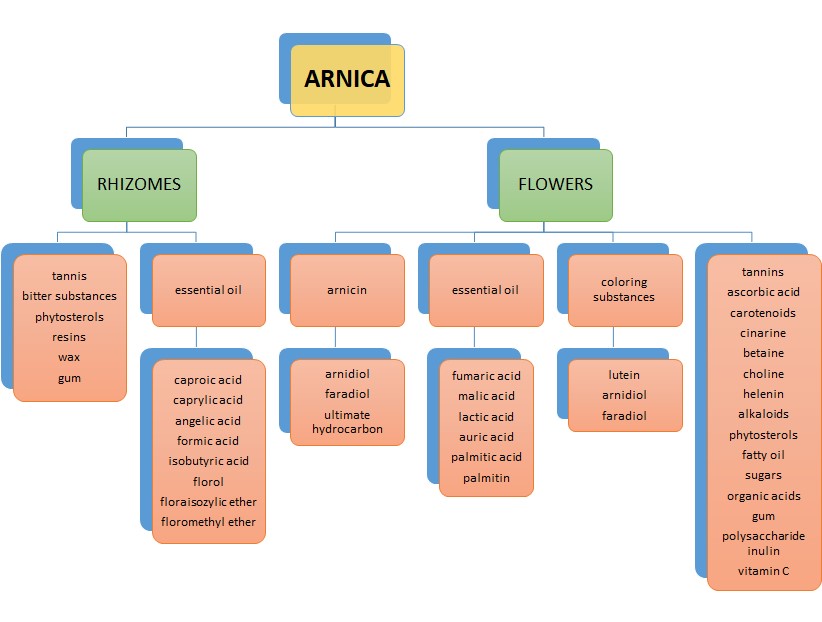 Substances contained in flowers and roots are also found in leaves and stems, but in smaller amount.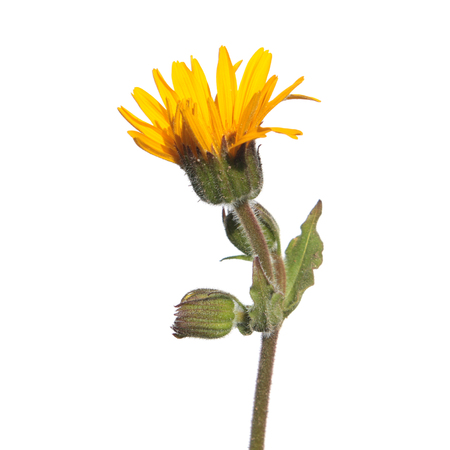 CONTRAINDICATIONS
pregnancy and breast-feeding

allergy to the asteraceae/compositae family (ragweed, chrysanthemums, marigolds, daisies, and many others)

broken skin

surgery
ARNICA HEALTH RECIPE
To prepare an infusion, add 1 tablespoon (15 g) of dried flowers to ½ cup (125 ml) of hot water. Cover and leave for 10 minutes. Strain. Take 3 tablespoons 3 times a day.
To make a decoction, add 1 tablespoon (15 g) of dried flowers to 1 cup (250 ml) of hot water. Bring to a boil, then lower heat and simmer for 3 to 5 minutes, stirring constantly. Cool and strain. Take 2 tablespoons (30 ml) 3 times daily before meals.
Caution: Arnica should be taken internally only under the guidance of a qualified health-care professional. A normal course of treatment should not exceed 7-10 days.
"Arnica is great. I got kicked in the stomach by a horse once, and some adult slapped arnica all over it, and I had no bruise at all to show for my pain"
Jasmine Guinness
*This article is for informational purposes only. We suggest consulting with a physician before using these or any other herbal supplements.