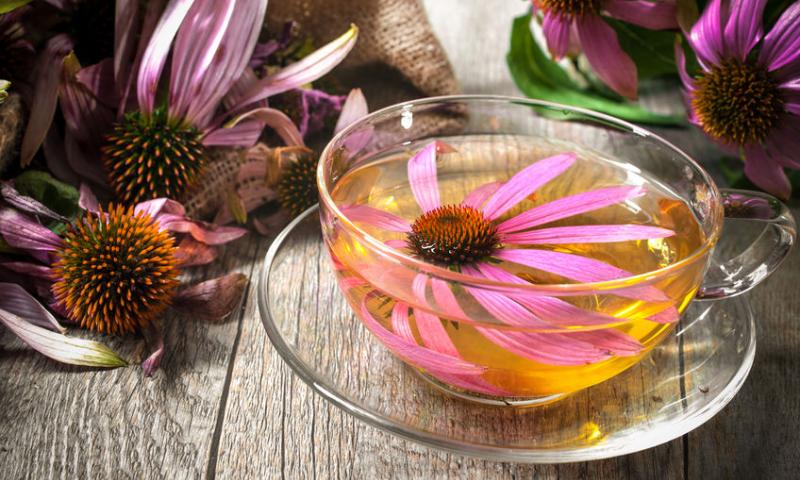 />
LATIN NAME: Echinacea purpurea
FAMILY: Asteraceae
GENUS: Echinacea
COMMON NAMES: eastern purple coneflower, hedgehog coneflower, or purple coneflower
ORIGIN: originates from eastern North America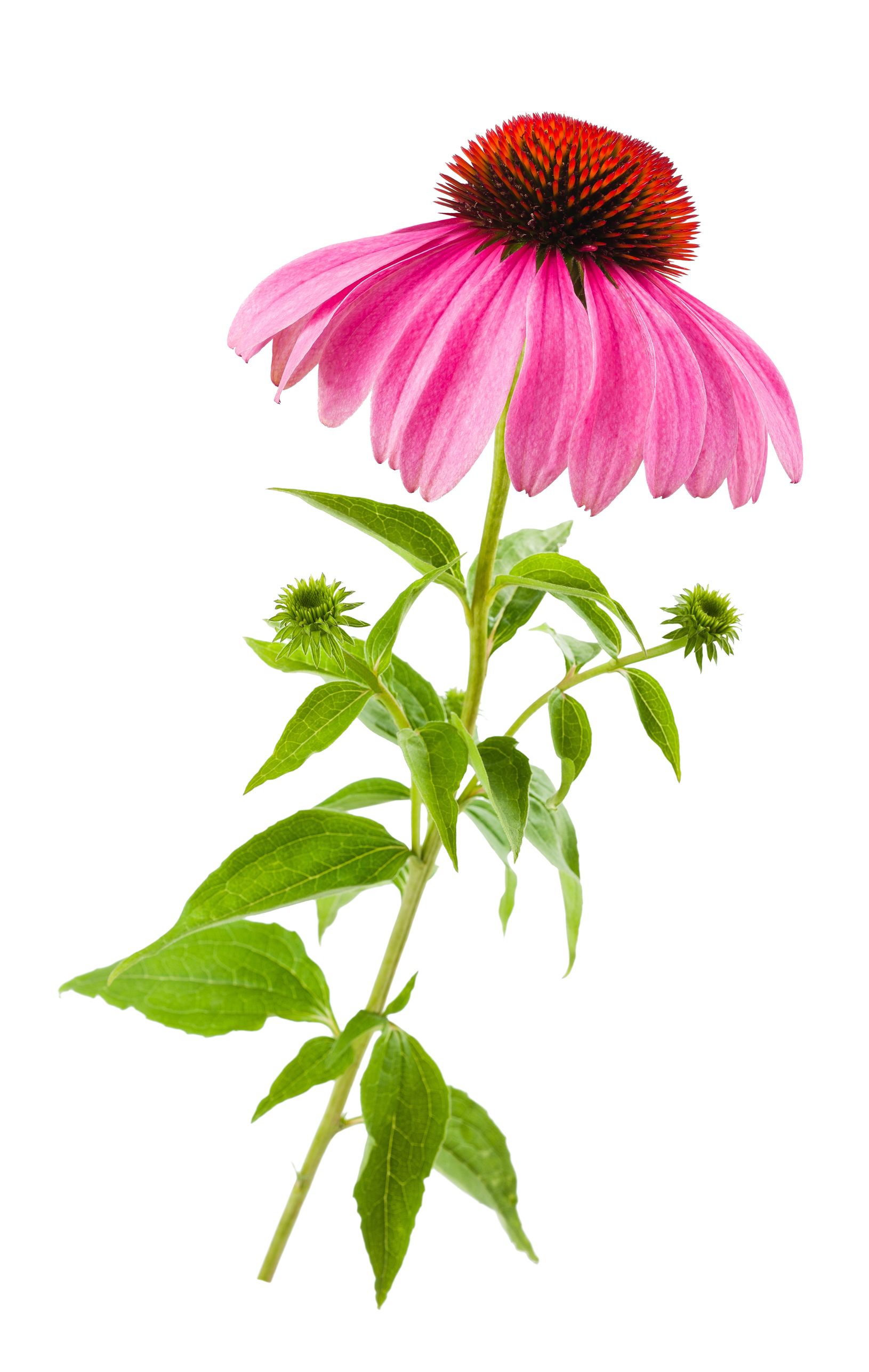 BOTANICAL INFORMATION
Echinacea is a perennial herbaceous plant up to 70-80 (100) cm heigh with sturdy, slightly branched stems. The lower leaves are rosette, broadly oval, large, on long petioles; the upper ones are lanceolate and sessile. Ray flowers are single-row, tubular, of red, crimson, purple color; they are collected in the basket inflorescences, of up to 10-15 cm in diameter. Flowering period is from July to September (about 60 days).
CHEMICAL COMPOSITION
The herb of Echinacea purpurea contains:
polysaccharides (heteroxylans, arabinoraminogalactans)

essential oils (0,15-0,50%)

flavonoids

oxycoric (chicory, ferulic, coumaric, caffeic) acids

tannins

saponins

polyamines

echinacin (polyunsaturated acid amide)

echinolone (unsaturated ketoalcohol)

echinacoside (glycoside containing caffeic acid and pyrocatechin)

organic acids

resins

phytosterols
Rhizomes and roots include:
inulin (up to 6%)

glucose (7%)

essential and fatty oils

phenol carboxylic acids

betaine

resins
All parts of the plant contain:
enzymes

potassium

calcium

selenium

cobalt

silver

molybdenum

zinc

manganese
HEALTH BENEFITS OF THE PLANT
prevents the development of heart attack and stroke

strengthens the immune system and possesses diuretic properties

has anti-inflammatory, antifungal, antiviral, antiallergic, antirheumatic and immunomodulatory action

destroys some viruses and bacteria

delays the reproduction of influenza viruses, stomatitis and herpes, e. coli, staphylococci and streptococci

helps the body to fight viruses and purifies tissues from affected cells, as they stimulate the production of t-lymphocytes and increase the activity of white blood cells

accelerates tissue regeneration

suppresses inflammation, reduces pain and accelerates the healing of tissues

significantly accelerates recovery when having infectious and viral diseases

can delay the development of metastases

destroys fungi and mold

reduces toxins

improves kidney and liver function

reduces the amount of nitrogen exchange products in the blood, and thus prevents the development of chronic diseases

echinacea does not allow the destruction of hyaluronic acid, which fills the space between cells and blocks the spread of bacteria and viruses

inulin also destroys viruses and promotes a leukocyte activity increasing
INDICATIONS FOR USE
Echinacea is effective for such diseases as: colds, flu, infections of the ears, bladder diseases, mononucleosis, blood infections.

It also promotes treatment for liver diseases, chronic inflammatory processes, diabetes mellitus.

It is helpful after chemical effects on the body such as insecticides, pesticides, fungicides, heavy metals.

This plant is widely used after chemotherapy, antibiotic treatment and radiation therapy.

Echinacea is applied externally when such skin diseases and problems as herpes, eczema, urticaria, furuncles, abscesses, wounds, burns, insect bites occur.

If you have psoriasis, snake bites, streptococcal infections, you can use lotions from Echinacea decoction.

Echinacea purpurea copes well with female diseases, prostatitis, osteomyelitis, polyarthritis, diseases of the top respiratory ways.
CONTRAINDICATIONS
Echinacea preparations are not recommended :
for

pregnant and lactating women

with systemic lupus erythematosus

with

rheumatoid arthritis

with

rheumatism

with

multiple sclerosis

with

leukemia

with

tuberculosis

when having

allergy to the components of the plant
SIDE EFFECTS
When overdosed, the person can face with
excitability

nausea

vomiting

disruption of the intestines and kidneys
DRUG INTERACTIONS
Echinacea interacts with:
caffeine

medications changed by the body: (lovastatin (Mevacor), clarithromycin (Biaxin), cyclosporine (Neoral, Sandimmune), diltiazem (Cardizem), estrogens, indinavir (Crixivan), triazolam (Halcion), etc

medications changed by the liver: clozapine (Clozaril), cyclobenzaprine (Flexeril), fluvoxamine (Luvox), haloperidol (Haldol), imipramine (Tofranil), mexiletine (Mexitil), olanzapine (Zyprexa), pentazocine (Talwin), propranolol (Inderal), tacrine (Cognex), theophylline, zileuton (Zyflo), zolmitriptan (Zomig), etc

immunosuppressants: azathioprine (Imuran), basiliximab (Simulect), cyclosporine (Neoral, Sandimmune), daclizumab (Zenapax), muromonab-CD3 (OKT3, Orthoclone OKT3), mycophenolate (CellCept), tacrolimus (FK506, Prograf), sirolimus (Rapamune), prednisone (Deltasone, Orasone), corticosteroids (glucocorticoids), etc

midazolam
Before using these or any other herbal supplements, consult a specialist.
ECHINACEA TINCTURE RECIPE
Pour vodka in a glass container over dried ground leaves with 1:10 ratio. Leave in a dark, cool, dry place for 10 days. When ready, strain and pour into small bottle with dark glass. Take 25-30 drops 3 times a day before meals.
Tincture is a good remedy to improve health and metabolism; for gastritis and peptic ulcer, spasms of blood vessels, constipation, inflammatory diseases of the female genital area, kidney and bladder diseases, prostate adenoma, etc.
"I take goldenseal, Echinacea and cod liver oil when flying to boost my immune system."
Janelle Monae
*This article is for informational purposes only. We suggest consulting with a physician before using these or any other herbal supplements.