/>
If you do not agree with these terms you must leave the website immediately:
Our products are herbal dietary supplements and have not been evaluated by the Food and Drug Administration, are not intended to diagnose, treat, cure or prevent any disease. Information and statements made are for education purposes and are not intended to replace the advice of your treating doctor. We suggest consulting a physician before using our or any other herbal supplements. Hawaii Pharm does not dispense medical advice, prescribe, or diagnose illness. The views and nutritional advice expressed by Hawaii Pharm are not intended to be a substitute for conventional medical service. Your use of the website, its content, and any services or products obtained through the website is at your own risk. In no event will Hawaii Pharm, its affiliates or their licensors, service providers, employees, agents, officers, owners or directors be liable for damages of any kind, under any legal theory, arising out of or in connection with your use, or inability to use, the products, any content on the website or any services obtained through the website or such other websites, including any direct, indirect, special, incidental, consequential, or punitive damages, including but not limited to, personal injury, pain and suffering, emotional distress, loss of revenue, loss of profits, loss of business or anticipated savings, loss of use, loss of goodwill, loss of data, and whether caused by tort (including negligence), breach of contract, or otherwise, even if foreseeable.
LATIN NAME: Trifolium pretense
FAMILY: Fabaceae
GENUS: Trifolium
ORIGIN: native to Europe, Western Asia and northwest Africa
COMMON NAMES: beebread, cow clover, meadow clover, purple clover, trefoil, wild clover
DISTRIBUTION AREA: widely cultivated as a forage plant across the world
HABITAT: It grows on medium-moist meadows, forest glades, along fields and roads
BOTANICAL INFORMATION: Red clover is a biennial, but more often a perennial herbaceous plant. Its stems are branched. It is easy to be distinguished, if you pay attention to the herb of 15-55 cm tall, blooming with irregularly shaped flowers, similar to small purple-red balls. Clovers have three-syllable bright green leaves that close at night, and in the morning unfold again. This bee-plant attracts bees, bumblebees and other insects thanks to a large amount of nectar and a delicious floral smell.
CHEMICAL COMPOSITION
Since red clover is used in medicine in many countries, today it is well studied. According to the results of the studies the following useful components were found in its composition:
essential oil
flavonoids
glycosides
fatty oils
organic acids
tannins
resin
alkaloids
amino acids
cellulose
retinol: vitamin A
thiamin: vitamin B1
riboflavin: vitamin B2
ascorbic acid
tocopherol
phylloquinone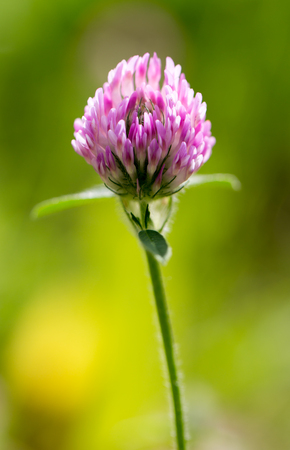 CONTRAINDICATIONS AND SIDE EFFECTS
Do not use Red Clover while pregnancy and breast-feeding.
"To make a prairie it takes a clover and a bee"
Emily Dickinson
*This article is for informational purposes only. We suggest consulting with a physician before using these or any other herbal supplements.