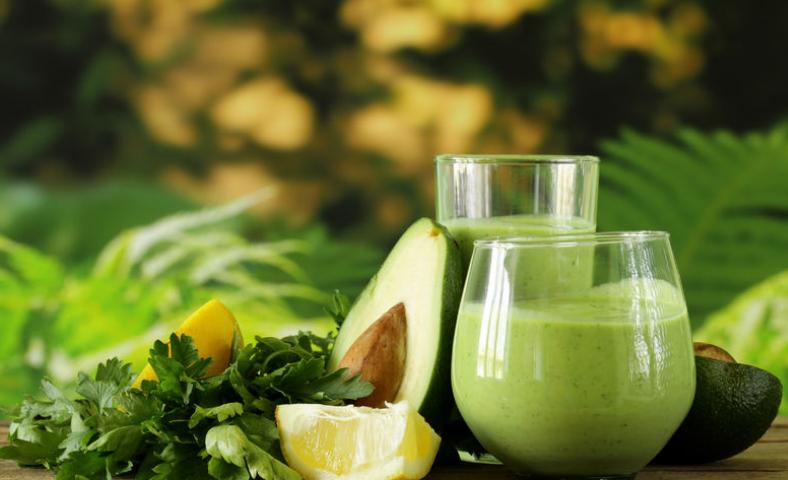 />
Avocado is a tropical fruit, very nutritious and healthy, rich in vitamins, minerals and essential fatty acids. There are many useful properties of avocados. This fruit can be found in the everyday diet of people who care about their health.
And today we will share with you some ideas, the way you can take all the benefits of this amazing fruit. We will tell you about its use in the kitchen, and about how to use it for cosmetic purposes, because nutrients are contained literally everywhere: from the pulp and the stone, and ending with the peel.
Useful properties of avocado
Avocado is one of the most nutritious products that only exist, and one of the most beneficial fruits for our health. It contains a number of vitamins (A, B, C, D, E, H, K, folic acid), essential fatty acids (Omega-3, 6 and 9), as well as minerals (potassium and magnesium). This is an excellent source of healthy fats, vegetable protein and fiber (dietary fiber) for the body.
Here are some advantages of avocados for our health:
Regulates the work of the nervous system, helps to overcome anxiety, stress and nervousness, as well as cope with insomnia.
Helps to prevent and cure anemia.
Protects against the negative effects of free radicals (cell aging).
Reduces the level of cholesterol and triglycerides in the blood.
Improves the heart.
Improves the appearance of the skin and nails.
Helps to fight excess weight and helps to reduce the waist (removes abdominal fat).
It has anticarcinogenic properties.
Removes inflammation.
Super nutritional cocktails
If you add a ripe avocado to your fruit cocktail, then you will get a more dense consistency, and you will not need to add yogurt or milk. In addition, the drink will turn into an incredibly nutritious and satisfying dish, which is ideal for breakfast or lunch. What's more it's a wonderful snack: after drinking such a cocktail, you will immediately have the necessary strength and energy for any physical or mental stress. For 1 portion you can add half avocado.
A great alternative to butter
The thick and oily texture of ripe avocado makes it an ideal ingredient for all sorts of toasts and sandwiches. You can easily avoid using more caloric and certainly less useful foods such as pate or soft cheese (in which there is salt and harmful fats).
It is possible to prepare both sweet and salty paste from avocado.
Sweet paste (cream): you can mix its pulp with cocoa, vanilla extract, cinnamon or honey.
Salted paste (cream): can be mixed with garlic, cayenne pepper, black pepper, lemon juice, vinegar, herbs or sea salt.
Ice cream without milk
It sounds strange, but it is true. You really can add avocado when preparing homemade ice cream (instead of cream). Then your favorite delicacy will become more useful and facilitate the process of digestion.
We recommend you trying combinations with various fruits, for example such as mango, passion fruit, strawberry or banana. Or create other tastes by mixing avocado with vanilla, cocoa or coconut. To prevent its oxidation and, as a consequence, darkening, do not forget to add a little lemon juice. You can always sweeten your fruit ice cream with honey, coconut sugar or syrup.
Stone Seasoning
The avocado bone contains of 70% of all amino acids present in the fruit, and a large amount of soluble dietary fiber. Among the useful properties of the avocado stone are the following:
Promotes fat burning
Prevents aging
Regulates the functioning of the thyroid gland
Strengthens the body's defenses
Prevents the development of heart disease
Increases libido
Gives energy and vitality
Calms muscle and joint pain
A stone can be rubbed with a grater and brewed like infusion. In addition, you can add grated avocado bone as a condiment in salads, juice, cocktails, etc. Finally, it can be fried, chopped (in powder) and stored in such a way to be taken at any time.
Anticellulite massage
The avocado bone is known to be of round shape and has a suitable size to make a light massage with the help of it. It will improve blood circulation, relieve the body of excess fluid and help to cope with cellulite. Just apply some vegetable oil on the skin and start making circular massaging movements with a bone (do not press too hard, the movements should be of medium intensity).
Nourishing Face Mask
Thanks to its high nutritional value, this fruit is great for restoring the structure of the skin. If you apply this mask on your face at least once a week, soon the skin will become much softer, more elastic, radiant and smooth.
Scrub for any skin type
And finally, you can not forget about the peel of avocado. If you massage the skin with the inside part of the avocado peel, you will notice the excellent exfoliating effect of this procedure. Due to the uneven surface of the peel, dead skin cells are easily removed.
At the same time, you will provide your skin with the necessary nutrition, because the nutrients are contained, mainly in the peel of this amazing fruit. Thus, the process of exfoliation does not dry out, but, on the contrary, will moisturize and soften your skin.
"You can't make everyone happy, you are not an avocado!"
We hope you smile, reading it. Have a nice day with Herbalterra.