/>
Latin Name: Althaea officinalis
Family: Malvaceae
Genus: Althaea
Common Names: marsh-mallow, marsh mallow, or common marshmallow
Origin and Distribution Area: native to Europe, Western Asia, and North Africa
Habitat: is found on the banks of rivers and in salt marshes, preferring moist, sandy soils
Parts used: flowers, leaves, roots
Botanical information: The stem is upright and simple. Its height is about 1 m, but sometimes it can be 2 m. The leaves are roundish, ovate-cordate, thick, and velvety on both sides. The flowers are smaller than of the common mallow and of a pale color. The period of blooming is lasting from August to September, and are followed by the flat.
CHEMICAL COMPOSITION
The marshmallow roots contain:
mucilage (up to 35%)

starch (up to 37%)

pectin (10-11%)

sugars

asparagine

betaine

carotene

lecithin

phytosterol

mineral salts

fatty oil (up to 1, 7%)
PHARMACOLOGICAL ACTIONS
anti-inflammatory

softening

expectorating

enveloping
HEALTH BENEFITS
The marshmallow roots have the following health-giving properties:
accelerating and improving of tissue regeneration

stimulating and facilitating of the process of expectoration

relieving and softening of inflammation

enveloping of the irritated mucous membrane
Marshmallow is used:
as a regenerating and wound-healing agent for skin diseases;

as the most effective cough remedy;

as an emollient for inflammation of the throat, especially with laryngitis;

as remedy for diseases associated with irritation of the mucous membrane of the gastrointestinal tract; the root of the marshmallow serves as an excellent enveloping agent for the stomach. The effect is stronger with an increased acidity of gastric juice;

when having excess weight. The marshmallow root is a very popular remedy for weight loss. It has the ability to reduce appetite, create a feeling of satiety, and improve peristalsis.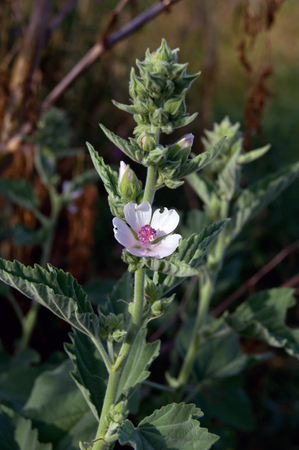 INDICATIONS FOR MARSHMALLOW USE
Diseases of the respiratory system and of upper respiratory airways:
chronic bronchitis

tracheitis

laryngitis

bronchial asthma

cough

flu

pneumonia

whooping cough
Disease of the gastrointestinal tract:
Diseases of the genitourinary system:
bladder stones

painful urination

prostatitis
Liver disease:
Skin diseases:
eczema

dermatitis

neurodermatitis

psoriasis
Allergic reactions:
Diseases of muscles and joints:
CONTRAINDICATIONS AND POSSIBLE SIDE EFFECTS
Marshmallow preparations can cause skin allergic reactions, nausea and vomiting during prolonged period of taking. It is prescribed with caution to diabetic patients and infants. Marshmallow is contraindicated during the first trimester of pregnancy, with chronic constipation and disruption of respiratory function of the lungs.
MARSHMALLOW DRUG INTERACTIONS
Moderate Interaction with Lithium:
Marshmallow has a diuretic effect on the body. Its consumption has an impact on the process of getting rid of the lithium from the body. The lithium quantity can become greater and leads to high-priority side effects. Consult a doctor, perhaps you will need to change a dosage of lithium.
Moderate Interaction with Medications for diabetes (Antidiabetes drugs):
Marshmallow has an effect of reducing blood sugar level of the body. Antidiabetes drugs such as glimepiride (Amaryl), glyburide (DiaBeta, Glynase PresTab, Micronase), insulin, pioglitazone (Actos), rosiglitazone (Avandia), chlorpropamide (Diabinese), glipizide (Glucotrol), tolbutamide (Orinase), and others have decreasing pressure properties as well. Thereby contemporaneous using of marshmallow and listed medications can decrease your blood sugar to the life-threatening rate. Observe the level of blood sugar vigilantly. Consult a doctor, perhaps the dosage of your diabetes medications need to be altered.
Moderate Interaction with Medications taken by mouth (Oral drugs):
Marshmallow includes mucilage. Mucilage can reduce drug absorbability in the body. Concurrent consumption of marshmallow and Oral drugs can reduce the amount of absorbed medications, and lower the efficacy of your Oral drugs. In order to avoid this interaction, consume marshmallow no less than one hour after oral drugs.
METHODS OF USE
Marshmallow is used in the form of:
syrup

infusion

decoction

tinctures

extract

mixture
PREPARATION AND DOSAGE
Marshmallow infusion recipe:
Take 6.5 grams of marshmallow roots, pour 100 ml of lukewarm water, infuse for 1 hour, then strain. Take 1 tablespoon in two hours. It is helpful with adenoma and prostatitis.

Take 3 teaspoons of marshmallow roots and pour 200 ml of boiled water (of room temperature) over it, steep for 8 hours, then carefully strain. It is useful as a lotion when having trigeminal neuralgia, allergic conjunctivitis, and myositis.
Marshmallow tincture recipe:
Take 20 g of marshmallow roots and pour 500 ml of vodka (40%) over the roots. Leave the closed container in a dark place, infuse for 10 days, then strain. Take 10-15 drops before meals 3 times a day. This tincture is helpful for the urinary and digestive systems.
"Nature does nothing uselessly"
Aristotle
*This article is for informational purposes only. We suggest consulting with a physician before using these or any other herbal supplements.