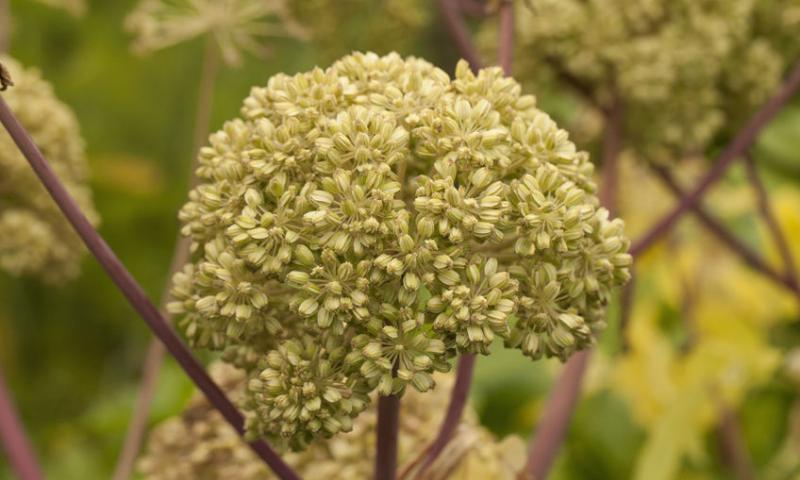 />
LATIN NAME: Angelica archangelica
FAMILY: Apiaceae
GENUS: Angelica
COMMON NAMES: garden angelica, wild celery, and Norwegian angelica
DISTRIBUTION AREA: grows wild in Russia, Finland, Sweden, Norway, Denmark, Greenland, the Faroe Islands, and Iceland
BOTANICAL INFORMATION: A biennial plant with a pleasant smell. Rhizome is brown, short, thick, with diameter up to 8 cm, with numerous vertical subordinate roots. The stem is single, erect, 120-250 cm high, thick, bare, cylindrical, hollow inside, branched at the top. Leaves are alternate, tripinnate, with large ovate bilobed or trilobate segments. Inflorescence represents a large, almost spherical complex umbel, 8-15 cm in diameter. The flowers are small, unattractive, and yellowish-greenish. One plant produces up to 500 g of seeds. It blossoms in June-August. Fruits ripen in July-September.
CHEMICAL COMPOSITION
Angelica consists of:
essential oil

coumarins

resins

wax

bitter substances

tannins

organic acids (malic, acetic, angelic, valeric and other acids)

phytosterols

ascorbic acid

calcium

phosphorus
ANGELICA TINCTURE RECIPES
1 tablespoon of raw crushed Angelica root
200 ml of 70% alcohol
Infuse for 7 days in a dark place
Take 30-40 drops 3 times a day
---
---
200 gr of raw crushed Angelica root
500 ml of vodka
Leave in the sun for 14 days
Take 20 drops 3 times a day
---
---
100 gr of dried crushed root of Angelica
1 liter of vodka
Leave the mixture in the dark place for 3 weeks
Take 1 tablespoon 3 times a day for 40 days before meals.
"A healthy outside starts from the inside"
*This article is for informational purposes only. We suggest consulting with a physician before using these or any other herbal supplements.