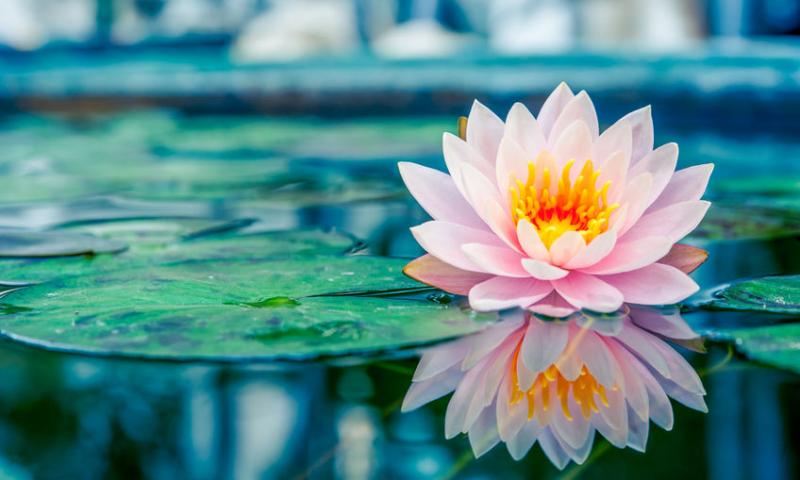 />
Lotus (Latin Nelumbo nucifera) is a species of perennial grassy amphibian plants from the genus Lotus (Nelumbo) of the monotypic family Lotus (Nelumbonaceae).
The plant is distributed in tropical and temperate regions of Asia (including Azerbaijan, Vietnam, India, Indonesia, Iran, the Korean peninsula, Myanmar, Papua New Guinea, Russia, Thailand, Philippines, Sri Lanka, Japan), and also in the north of Australia. Native to Tropical Asia, and Queensland, Australia, it is commonly cultivated in water gardens. It is also the national flower of India, and Vietnam.
Nelumbo nucifera is a perennial aquatic plant with a knotted rhizome, belonging to tropical relict species. The leaves of the lotus are floating, on long prickly cuttings, shaped like a shield with a hollow in the middle and covered with a wax coating; the diameter reaches 50-70 cm. The flowers change from bright pink at the beginning of flowering to almost white before the petals fall; blooming period lasts only a couple of days. It blooms in the second half of summer. Lotus flowers are large, 25-30 cm in diameter, and rise high above the water on a straight pedicle. They have a faint but very pleasant aroma.
LOTUS COMPOSITION
A large number of active substances stipulates useful properties of this flower. The leaves of the plant contain flavonoids, leucoanthocyanidins and alkaloids; rhizomes are rich in tannins, starch, resin, and rubber and vitamin C are present in all parts of the lotus.
LOTUS RECIPES
PORRIDGE FROM LOTUS SEEDS
15 g of seeds soak in warm water for 4-5 hours. After add 15 grams of dark sugar and put on a fine fire, cook until ready. Put in tea with calculation 5 g - 1 glass.
VINEGAR INFUSION WITH LOTUS ROOT
The root must be well peeled; add the root to water and vinegar (1 tablespoon of vinegar - 1 glass of water), hold for 5 minutes. Then rinse under running water, throw in boiling water with vinegar, cook for 5 minutes. Drink 50 minutes before meals for one week.
"Water surrounds the lotus flower, but does not wet its petals"
Buddha
*This article is for informational purposes only. We suggest consulting with a physician before using these or any other herbal supplements.