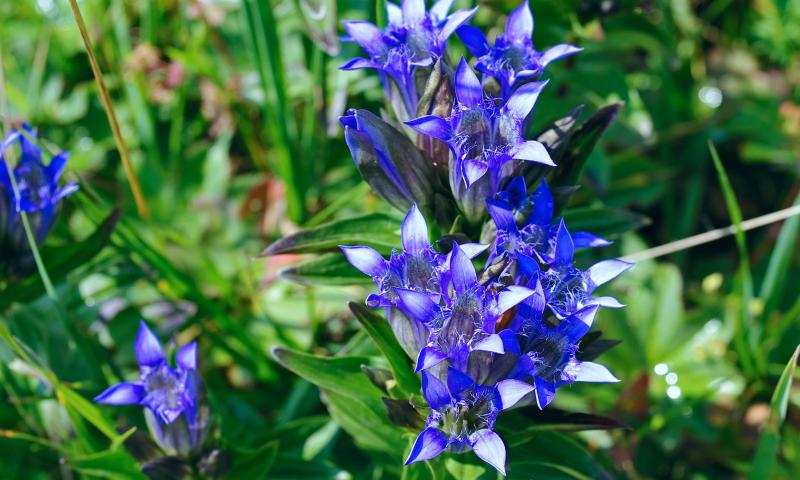 />
LATIN NAME: Gentianae Macrophyllae.
CHINESE NAME: Qin Jiao.
BOTANICAL INFORMATION: Gentianae Macrophyllae is a perennial herbaceous plant with a thick rhizome and rosette of large basal leaves. Flowers are dark blue, collected in whorls, located on the top of the stem and in the sinuses of the upper leaves. Blossoms from the middle of June to the middle of August.
CHEMICAL COMPOSITION:
Gentianae contains bitter glycosides that increase intestinal motility. The root of the plant includes bioflavonoids, about 6% of essential and fatty oils, bitterness, sucrose, pectins, gums and mucus. The leaves contain an impressive amount of ascorbic acid.
HEALTH BENEFITS AND INDICATIONS FOR USE:
Tincture of Gentianae Macrophyllae root is recommended to use as a means for improving digestion, and as a remedy for potency. In Tibetan medicine, this plant is used for gastritis and gastrointestinal diseases, and also as an antipyretic agent. In addition, tincture from roots and rhizomes is taken when having fever, dysentery, female diseases, stomach and intestinal colic, as well as with diarrhea, before and after childbirth. Decoction of the herb of this plant is endowed with hemostatic and choleretic effect, shows histamine-like activity. This plant is able to regulate the secretory and excretory function of the stomach. Ointment from the herb of this plant have a healing and anti-inflammatory effect, which is especially important for frostbite and burns. In folk medicine Gentianae Macrophyllae is considered effective for neurasthenia, amenorrhea, hypertension, pulmonary tuberculosis.
HAVE YOU KNOWN?
King Gentius was the first who used a gentian to treat the plague, and therefore the plant was named after him - Gentianae. The great ancient physician Avicenna used it as a diuretic or choleretic agent, and in addition, he believed that the plant has astringent, cleansing and rarefying effects. He prescribed Gentianae juice for treating wounds, for nervous disorders, for blocking the vessels of the spleen and liver. He claimed that the bath with a decoction of the Gentianae will save from the bite of a scorpion and a rabid animal. Galen used Gentianae to treat gout, arthritis and rheumatism, and medieval healers used it to treat tuberculosis and malaria.
CONTRAINDICATIONS AND SIDE EFFECTS:
This herb is forbidden with Spleen Deficiency, Cold with loose stools or diarrhea, frequent urination, chronic pain with emaciation.
Overdosing can cause drowsiness, nausea and vomiting.
HEALTH RECIPES WITH GENTIANAE:
Infusion: Pour 200 ml of boiling water over 1 tbs of chopped root. Infuse for 2 hours, then filter. Take 1 tbs 3 times a day. This infusion will help to cope with loss of appetite and systematic heartburn (reflux esophagitis), accompanied by a burning sensation in the esophagus and the epigastric region.
Decoction: Add 1 tbs of rhizome to 250 ml of boiling water. Simmer for 15 minutes, then infuse it for 20 minutes and filter. Take 1 tbs 3 times a day before meals. This decoction improves appetite greatly.
Tincture: Take a glass jar. Pour 500 ml of vodka over 50 gr of chopped root. Leave the container in a dry, dark, cool place for 10 days. When ready, filter it and take 20 drops diluted in 100 ml of water 3 times a day 20 minutes before meals. This tincture promotes treatment for decreased peristalsis or intestinal atony.
"There are no passengers on spaceship Earth. We are all crew"
Marshall McLuhan
*This article is for informational purposes only. We suggest consulting with a physician before using these or any other herbal supplements.