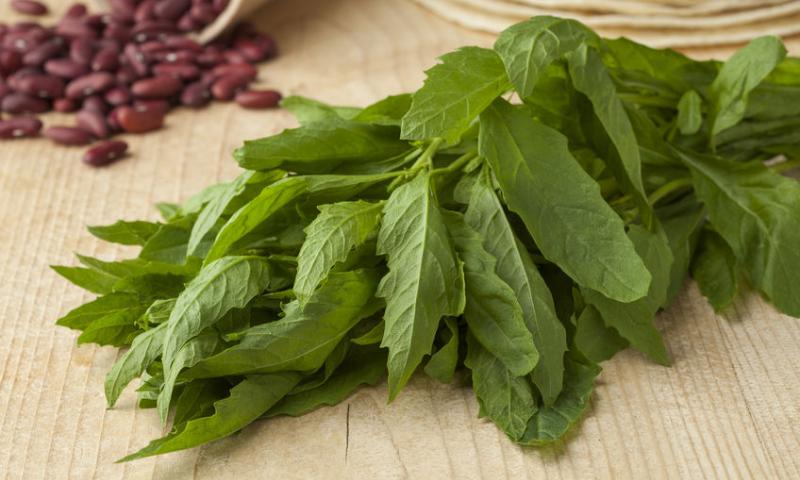 />
COMMON NAME: Epazote
LATIN NAME: Chenopodium Ambrosioides
ORIGIN: South America, Europe
HABITAT: Grows wild in the eastern and southern parts of the United States and Europe. Also can be found in Western India, North Africa, Mexico, Brazil, Chile.
BOTANICAL INFORMATION: Epazote (lat. Chenopodium ambrosioides L.) is a perennial herb of the Chenopodiaceae family. Epazote is a perennial aromatic plant reaching 100-150 cm in height. The root is long and pivotal. The stem is branched, ribbed and straight. The leaves are alternate, pointed, narrowing towards the base, medium-sized, oval-elliptical in shape, dentate along the edge. Plain green flowers are collected in paniculate inflorescences. The flowers are bisexual, with a simple cup-shaped perianth. The plant has five stamens. The fruits are round, single-seeded, easily crumbled, with a membranous pericarp and numerous glands that produce essential oil. The seeds are numerous, small, covered with a smooth, shiny brown-black shell. Chenopodium Ambrosioideshas a pleasant smell. The flowering period is in August - September, seeds ripen in September - October.
CHEMICAL COMPOSITION: Epazote is packed with magnesium and potassium, calcium and zinc, phosphorus and iron, copper and selenium, manganese and sulfur, as well as vitamins of group B, A and C. The leaves contain essential oil, which consists of ascaridol (up to 80%), tsimol, limonene, terpene, silvestren. The plant also has butyric acid, ferulic acid, folic acid, malic acid, tartaric acid, geraniol and quercetin in its composition.
HISTORY:
The homeland of Chenopodium Ambrosioides is Mexico and the tropical part of America. In Western Europe, the plant has been cultivated since the second half of the last century.
*This article is for informational purposes only. We suggest consulting a physician before using these or any other herbal supplements.