/>
If you do not agree with these terms you must leave the website immediately:
Our products are herbal dietary supplements and have not been evaluated by the Food and Drug Administration, are not intended to diagnose, treat, cure or prevent any disease. Information and statements made are for education purposes and are not intended to replace the advice of your treating doctor. We suggest consulting a physician before using our or any other herbal supplements. Hawaii Pharm does not dispense medical advice, prescribe, or diagnose illness. The views and nutritional advice expressed by Hawaii Pharm are not intended to be a substitute for conventional medical service. Your use of the website, its content, and any services or products obtained through the website is at your own risk. In no event will Hawaii Pharm, its affiliates or their licensors, service providers, employees, agents, officers, owners or directors be liable for damages of any kind, under any legal theory, arising out of or in connection with your use, or inability to use, the products, any content on the website or any services obtained through the website or such other websites, including any direct, indirect, special, incidental, consequential, or punitive damages, including but not limited to, personal injury, pain and suffering, emotional distress, loss of revenue, loss of profits, loss of business or anticipated savings, loss of use, loss of goodwill, loss of data, and whether caused by tort (including negligence), breach of contract, or otherwise, even if foreseeable.
Name: Sage
Latin Name: Salvia officinalis
Common Names: Garden sage, common sage, culinary sage
Salvia officinalis (sage) is a perennial, evergreen subshrub, with woody stems, grayish leaves, and blue to purplish flowers. It is a member of the mint family Lamiaceae and native to the Mediterranean region, though it has naturalized in many places throughout the world. It has a long history of medicinal and culinary use, and in modern times as an ornamental garden plant. The common name "sage" is also used for a number of related and unrelated species.
There is an interesting fact that sage comes from the Mediterranean (Greece, Spain and Turkey) and spread throughout the world with merchants. It was particularly popular In Renaissance Europe; many old recipes are known from old pharmacy books, where the main ingredient was sage.
SAGE COMPOSITION
There is 0.3-0.5% of essential oil in the inflorescences and leaves of sage, which contains linalool, acetic acid, aromatic resins, pinene, formic acid, flavonoids, and tannins. Sage seeds contain about 20% protein and 30% fatty oil, which dries quickly, and the sage roots have in their composition coumarin.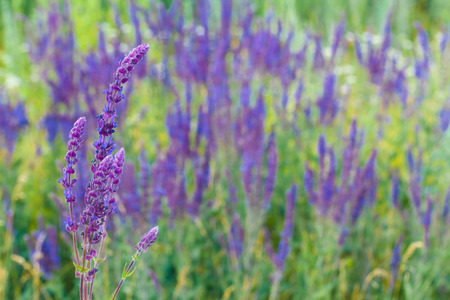 CONTRAINDICATIONS IN SAGE USAGE
Sage is contraindicated during pregnancy at any time.
Breastfeeding mothers should not use it unless they plan to wean the baby from the breast.
It is forbidden to take sage inside when having the raised level of an estrogen.
SAGE TEA RECIPE
INGREDIENTS
1 tablespoon fresh sage leaves or 1 teaspoon dried sage
1 cup water
1 wedge lemon (optional)
honey, to sweeten (optional)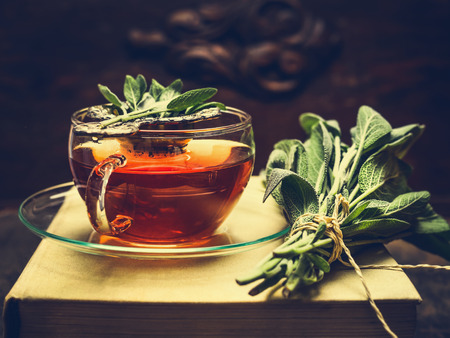 DIRECTIONS
Bring water to a boil. Remove from heat and put sage in the water. Let steep for about 3-5 minutes.
Strain, pour in cup, add lemon and honey, if desired, and drink. You may drink this hot or cold. Enjoy!
SAGE FACTS
Sage has been used as meat preservative in the ancient Greece and Rome, because it possesses antibacterial properties.
The plant was once thought to ward off evil and biting serpents.
Sage in feng shui is used as a space cleaner from bad energy.
If you have inhaled this tart sage aroma, you will never forget it! By the way, there is an opinion that
"The desire of sage is to render man immortal".
We believe it. Hope, that you will always remember that the greatest wealth is your health! Have a nice day with Herbalterra!
*This article is for informational purposes only. We suggest consulting with a physician before using these or any other herbal supplements.