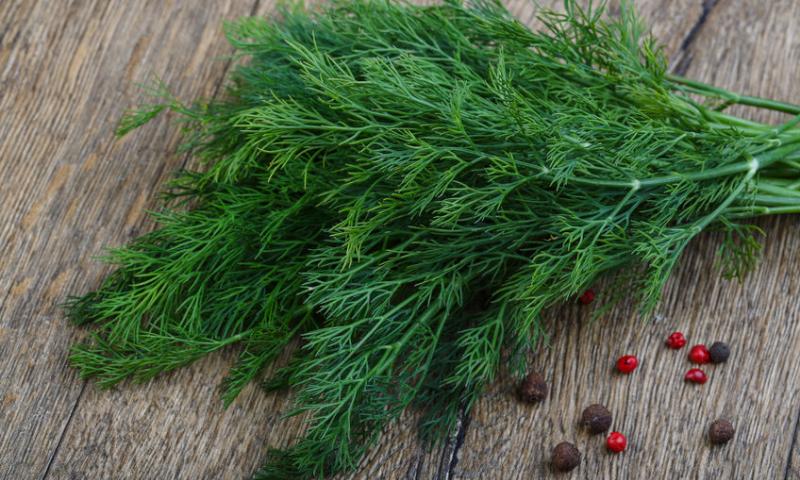 />
Latin Name: Anethum graveolens
Family: Apiaceae
Genus: Anethum
Distribution Area: widely used as herbs in Europe and central Asia
Botanical Information: Dill is an odorous plant with a straight stem, growing no more than 120 cm. The dill stem is thin and branchy and is painted in a dark green color. The leaves of the plant are egg-shaped, depending on the location they have different shapes. For example, the lower leaves are long, located on wide petioles. The leaves at the top of the stem are sessile and sheathing. Dill flowers are collected in large umbels. Dill seeds are ovate.
CHEMICAL COMPOSITION AND HEALTH BENEFITS OF DILL
Essential oil of dill contains phytoncides, which slow down the growth of bacteria and fungi; it is useful with metabolic disorders because it purifies the intestinal flora. There are vitamins A, C, folic acid, calcium and potassium in the composition of dill.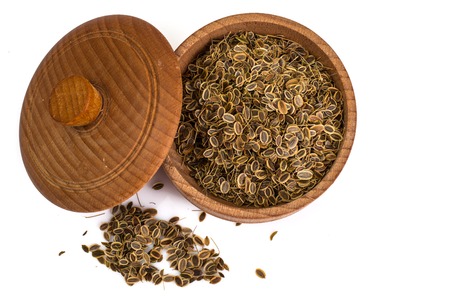 The dill health benefits:
increases the elasticity of the skin

cleanses the mucous membranes

has a beneficial effect on eyesight, especially twilight

improves the activity of the nervous system

increases immunity

has an easy diuretic effect

is used as a choleretic property

prevents Insomnia

maintains bone health

manages diabetes

prevents excess gas

calms hiccups

cures diarrhea

treats dysentery

relieves arthritis pain

stimulates menstruation

treats respiratory disorders

oral care

prevents cancer
Dill is recommended for people with hypertension. Its consumption causes vasodilation of blood vessels and, as a consequence, reduces blood pressure.
Due to the strong diuretic effect, dill is recommended for people with urolithiasis and who have problems with fluid retention in the body.
Everyone knows about the dill water, which is given to newborn children in order to relieve spasms and calm pain in the abdomen.
Dill preparations are prescribed as an expectorant for coughing.
Dill is used as antiseptic for rinsing with inflammation of the mouth and with purulent skin diseases.
Dill is a plant vital to diabetics and people with high cholesterol levels in the blood. Dill is completely cholesterol-free and low in calories, moreover it contains many antioxidants, vitamins and dietary fiber, thereby reduces the level of harmful cholesterol and blood sugar. Dill is also an effective remedy for improving digestion and cancer prevention.
Dill has such properties as:
vasodilating

laxative

anti-inflammatory

expectorant
In addition, this plant is used as a good sedative and hypnotic. Dill improves appetite, strengthens the immune system and normalizes the functioning of the mammary glands. Decoction and infusion of dill possess choleretic and soothing properties. An infusion made from the leaves of the plant helps to relieve inflammation and redness of the eyes. Dill is an excellent stimulant for gastric juice.
Dill reduces pressure, improves heart function, relieves headaches. Infusion of herbs relaxes the intestines, can increase diuresis.
CONTRAINDICATIONS AND POSSIBLE SIDE EFFECTS
Dill might be contraindicated when:
A person has sensitive skin: dill sometimes can cause skin irritation, when put on the skin as a remedy. Fresh dill juice can increase the responsiveness to the sun light as well, mainly when you have a light color of the skin. This can cause sunburns and skin cancer.
Pregnancy and breastfeeding: dill consumption during these periods is possibly unsafe, because dill seed can strengthen the bleeding, so that can cause menstruation and provoke a miscarriage. The safety of taking dill during breastfeeding is proved insufficiently. It is better to take dill in quantity of food when breastfeeding.
Having allergy to plants of the carrot family.
Diabetes: dill extract can decline blood sugar level. In order to avoid hypoglycemia, observe the blood sugar level vigilantly during dill extract consumption.
Having surgery: dill extract can reduce blood sugar level. Taking dill more than in food quantity, can impede overseeing blood sugar level throughout and after surgery. Put an end to using dill extract no less than 2 weeks in advance of surgery.
DILL DRUG INTERACTIONS
Moderate Interaction with Lithium:
Dill has a diuretic effect on the body. Its consumption has an impact on the process of getting rid of the lithium from the body. The lithium quantity can become greater and leads to high-priority side effects. Consult a doctor, perhaps you will need to change a dosage of lithium.
APPLICATION OF DILL
Traditional medicine uses dill in the form of tea, tincture, decoction, infusion of roots, seeds and leaves. Preparations from dill are used to improve appetite, with bowel disease, liver and abdominal pain. Dill is recommended for pyelonephritis, gastritis and respiratory system diseases. Dill infusion is used for hypertension, purulent wounds.
Dill for newborns. Take 1 tablespoon of dill seeds and pour them with a glass of boiling water. Cover the container with a lid and let it infuse for 15 minutes. Then strain the infusion. It is taken for 1 teaspoonful 5 times a day. The same infusion can be treated for diseases of the urinary system and inflammation of the respiratory tract.
Dill from bloating. Take 2 tablespoons of dill seeds and pour them with 200 ml of boiling water. Leave the mixture for 2 hours to infuse in a closed container. Then strain the infusion. Take 1 tablespoon three times a day 20-30 minutes before meals.
Dill for cystitis. Take three tablespoons of the herb, chop it and pour with 200 ml of boiling water. Then use boiling-water bath for 20 minutes. Remove from fire, infuse the decoction for 45 minutes, take 70 ml three times a day.
Dill liquid extract will help to stop hiccups, to treat nervous disorders, to prevent and tackle indigestion, to relieve any type of colic. Herbalterra produces this extract using a cold maceration method of extraction to ensure that the broad spectrum of therapeutic plant compounds - vitamins, minerals, alkaloids, flavonoids and other active constituents of the herbs are fully extracted and maintained. Take about 20-30 drops (1 ml or 1 full squeeze of the dropper bulb) to 2 oz of juice or water up to 4 times a day.
"He plants trees to benefit another generation"
Caecilius Statius
*This article is for informational purposes only. We suggest consulting with a physician before using these or any other herbal supplements.