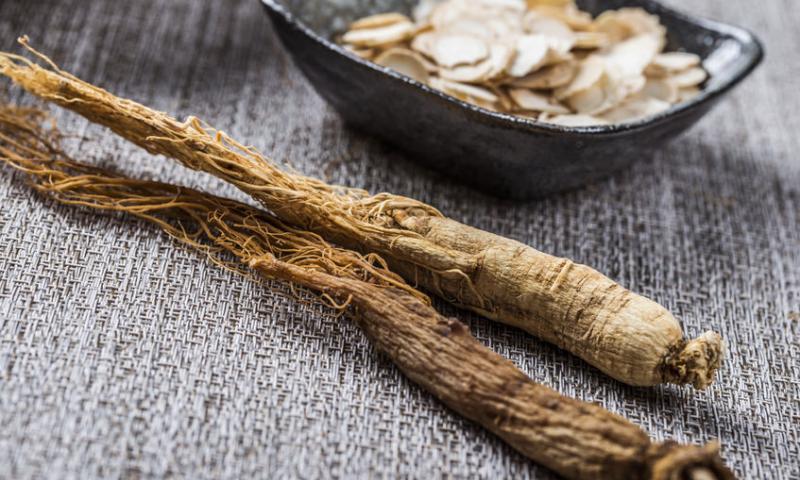 />
LATIN NAME: Panax Quinquefolius.
CHINESE NAME: Xi Yang Shen.
BOTANICAL INFORMATION:
Panax Quinquefolius grows in the mountains in the northeast of America and Canada. It has a small rounded shape. It is grown for commercial purposes, therefore wild-growing roots are highly valued and are more expensive. Panax Quinquefolius is the only species of ginseng, which has cooling properties.
ACTIONS: tonic, immunomodulating, restorative, adaptogen, antiviral, antibacterial, antidiabetic.
HEALTH BENEFITS:
Panax Quinquefolius restores the energy balance of the body, has a mild tonic effect, increases the body's resistance to adverse environmental factors. It also strengthens the immune system, increases the nonspecific resistance of the organism to a wide range of harmful effects of physical, chemical and biological nature. American Ginseng is able to relieve stress, increase endurance, improve well-being, promote better concentration, and improve memory. This plant is also famous for reducing blood sugar, cholesterol, and alcohol addiction. It alleviates symptoms of menopause, increases estrogen levels in women. The herb improves sleep in its dry form and has a stimulating effect (stimulates mental activity) in its raw form.
INDICATIONS FOR USE:
Panax Quinquefolius may help providing cure for such conditions as diabetes, fatigue, recovery period, colds, warts, tonsillitis, arthritis, mental and physical fatigue, lung disease, tumors, anemia, insomnia, gastritis, neurasthenia, spasms, stomach problems, premenstrual pain syndrome, nausea, bronchial diseases, cough, fever.
SPECIAL WARNINGS:
American Ginseng is not recommended for use with low acidity. Do not mix Red ginseng and American ginseng. This plant may interact with monoamine oxidase inhibitors, phenelzine, antipsychotic medications, contraceptive medications and sex hormones.
CONTRAINDICATIONS:
Panax Quinquefolius is contraindicated when having individual intolerance to the plant components, predisposition to allergies, runny nose, coronary thrombosis, hemorrhage, pneumonia, caffeinated drinks, a state of hysteria, insanity and intense nervous excitement. This plant must be avoided with schizophrenia, diverticulitis, diverticulosis, duodenal ulcer, esophageal reflux, stomach ulcer, ulcerative colitis, during pregnancy and lactation.
SIDE EFFECTS:
The herb can increase the secretion of histamine and reduce the level of eosinophils in the blood.
TEA RECIPE WITH AMERICAN GINSENG:
Pour 8 ounces of boiling water over 6-8 thin slices of American Ginseng root. Steep for 5 minutes and strain. You may also add some honey to taste.
"The Earth is what we all have in common"
Wendell Berry
*This article is for informational purposes only. We suggest consulting with a physician before using these or any other herbal supplements.