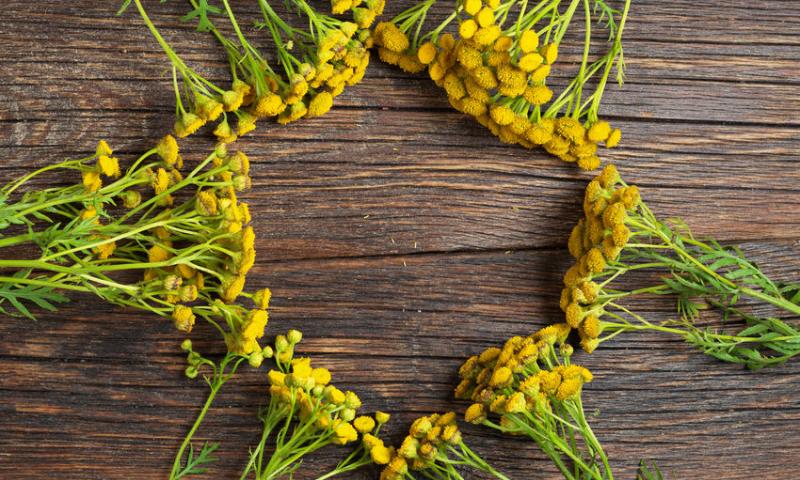 />
LATIN NAME: Tanacetum vulgare
FAMILY: Asteraceae
GENUS: Tanacetum
COMMON NAMES: common tansy, bitter buttons, cow bitter or golden buttons
ORIGIN: native to temperate Europe and Asia
DISTRIBUTION AREA: it grows throughout Europe, Turkey, Kazakhstan, Kyrgyzstan, Mongolia, China, Japan and Korea
HABITAT: it grows on roads, fields, meadows, on the fringes, in meadow steppes, birch forests, on dry meadows.
PARTS USED: herb, leaves, flowers, inflorescences and seeds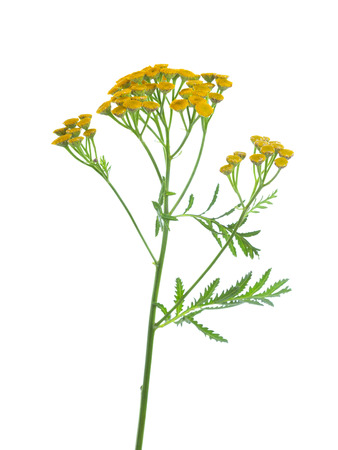 BOTANICAL INFORMATION: A perennial plant with a height of 50-150 cm. The plant has a characteristic (camphoric) odor. Rhizome is long, woody, creeping, branching. The stems are numerous, straight, branched in the upper part, slightly hairy or glabrous. Leaves are alternate, oblong-ovate, twice-pinnatisected, with 5-12 pairs of oblong-lanceolate, pointed, serrate leaves; the upper side is dark green, with the glacial lower side. The lower leaves are petiolate, the rest are sessile. Flowers are small, bisexual, regular, yellow, tubular, collected in baskets, and those, in turn, are collected in lush inflorescences. Fruit is an oblong seed with a short, finely serrated margin. The plant blooms in July - September. Fruits ripen in August - September.
CHEMICAL COMPOSITION
Tansy contains an essential oil that includes camphor and other substances, as well as flavonoids, alkaloids, bitter substance tanacetin, organic acids, tannins, resins, sugar, gum, B vitamins, carotene, vitamin C. The leaves and inflorescences contain flavonoids, alkaloids, tannins and bitter substances. Inflorescences, in addition, contain: macronutrients: potassium, calcium, magnesium, iron. Microelements: manganese, copper, zinc, cobalt, molybdenum, chromium, aluminum, selenium, nickel, strontium, lead, boron.
All these active substances form the basis of the chemical composition of tansy.
HEALTH BENEFITS
Tansy has the following health properties:
anti-inflammatory

wound healing

bactericidal

spasmolytic

astringent

choleretic

diuretic

anthelmintic
Tansy normalizes the digestive system, raises blood pressure and soothingly acts with various nervous disorders. Preparations of the plant are used to induce appetite, improve digestion, liver, kidney and bladder diseases, bronchial asthma, rheumatism, gastritis, gastric ulcer and duodenal ulcer, intestinal inflammation, stomach spasms, flatulence, constipation, tuberculosis and heavy menstruation; lotions from tansy decoction are used for gout, wounds, eczema, polyarthritis and joint pains, and the infusion of the plant with salt is for grinding with chills and fatigue.
In folk medicine, leaves and flowers of tansy are used to treat rheumatism, gout, hepatitis, cholecystitis, epilepsy and to normalize the menstrual cycle; as an astringent for enterocolitis and gastritis; as a diuretic, when having pyelonephritis and urolithiasis.
POSSIBLE SIDE EFFECTS AND CONTRAINDICATIONS
CAUTION: The plant contains alkaloids that are toxic to both humans and livestock if consumed in large quantities!!!
Tansy can cause:
restlessness

vomiting

severe diarrhea

stomach pain

dizziness

tremors

kidney or liver damage

bleeding

abortions in pregnant women

seizures
Tansy is contraindicated in:
pregnancy

breast-feeding

children

allergy (to the asteraceae/compositae family: ragweed, chrysanthemums, marigolds, daisies, and many others)

porphyria, an inherited condition that affects metabolism
DRUG INTERACTIONS
Major Interaction with Alcohol:
Alcohol can lead to tiredness and somnolence as well as tansy. Simultaneous taking of huge doses of tansy and alcohol can strengthen the feeling of sleepiness.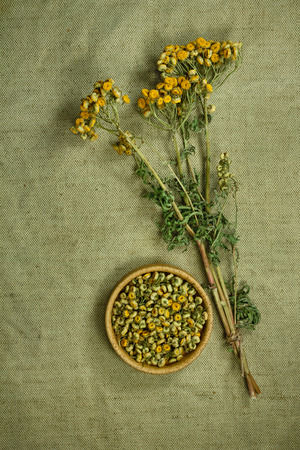 HEALTH RECIPES
Tansy decoction recipe:
Add 1 tablespoon of crushed tansy herb to 200 ml of hot boiling water. Infuse for 4 hours, then strain. Take 1 tablespoon 3-4 times a day when having with ascarids, pinworms, hyacid gastritis, colitis, hepatitis, cholecystitis, hypotonic disease, nervous excitation, peptic ulcer of stomach and duodenum with decreased acidity of gastric juice. You can as well clean festering wounds with this decoction.
Tansy infusion recipe:
Add 1 tablespoon of tansy inflorescences to 400 ml of cool boiled water, infuse for 4 hours, mix from time to time, then strain. Take 50 ml 2-3 times a day 30 minutes before meals. Infusion from inflorescences of tansy is used for enterocolitis, cystitis, nephritis, gastrointestinal diseases, especially with low acidity, hepatitis, cholecystitis, bronchial asthma, pulmonary tuberculosis, acute respiratory infections, as a sedative for rheumatism, epilepsy, neurasthenia, asthenia, headache, hydrophobia, with intestinal parasites.
Tansy tincture recipe:
Add 80 g of tansy leaves and inflorescences to 1 liter of dry wine, infuse for 10 days, shaking the mixture regularly, then strain. Take 100 ml 3 times a day after meals when having arthritis and polyarthritis.
---
"There are always flowers for those who want to see them."
Henri Matisse
*This article is for informational purposes only. We suggest consulting with a physician before using these or any other herbal supplements.